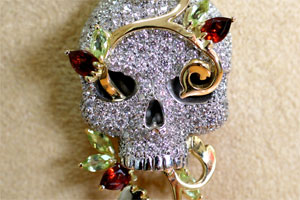 A New Zealand family-run jewellery store could see its creations gracing the red carpet at this year's Oscars.
Robinson Designer Goldsmith has been invited by Hollywood Award Suites to a showcase event to show off its designs to a selection of Hollywood stylists, media and celebrities next Thursday with the hope of being picked for the Academy Award's red carpet on March 7.
Ken Robinson and his twin sons Michael and David create high-end, one-off pieces from their Takapuna store and workshop.
The trio use New Zealand gold and ethically mined diamonds and gems and Ken Robinson describes their jewellery as colourful, fresh and very different from what is in Los Angeles.
In December, some of their "Skull Duggery" designs were featured in LA's Vamped magazine and they were contacted by Oscar organisers.
The collection features diamond skulls complete with brightly coloured vines, flowers, snakes and birds, created with platinum, gold and gems.
At first, Mr Robinson thought it was a hoax, but a fashion-editor friend confirmed that it was the real thing.
"It would be amazing if someone picked us up," said Mr Robinson. "To be on the red carpet would be out of this world."
While he would not name names, Mr Robinson said there were a couple of celebrities he and his sons had their fingers crossed for.
Anita Talbert, founder of Hollywood Award Suites, said she invited the company to the showcase because she knew celebrities would love its jewellery and the jeweller had a huge following in LA.
"I saw their art designs and thought they were amazing.
"It's the edgy fun stuff, but serious jewellery with diamonds and precious stones, that make these conversation pieces and collectors' pieces."
Robinson Designer Goldsmith was established in 1986, originally importing diamonds, and now produces 150 to 200 pieces a year.
Michael and David Robinson take care of the metal work while Ken, a qualified diamond grader, organises the stones. All three work on the designs together.
Ken Robinson said their recent tattoo-inspired range had caught a lot of attention overseas, especially in the body-art scene.
"I'd like to think when people look at our jewellery in 100 years' time, they will say, 'Wow'."