Rating: * * * *
Verdict: A delightful rom com that is actually funny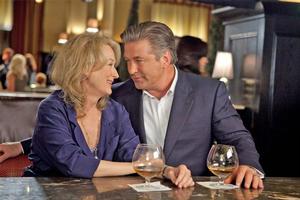 The setup that plays out in this romantic comedy, written and directed by Nancy Meyers (Something's Gotta Give, The Holiday), is more complicated than the film itself, which is a relatively simple, predictable affair. However, it is littered with fabulous performances from a charming cast and it is hard not to find this piece of escapism enjoyable.
Mamma Mia! and Julie and Julia have made Meryl Streep, at 60 years of age, a box office draw card, especially with adult women. It's easy to see why - she is instantly likeable, smart and funny, and possesses the ability to come across as one of us. These traits shine through in her character Jane Adler.
Jane has spent the past 10 years getting over divorce from her slick lawyer husband Jake (Alec Baldwin), who humiliatingly has married his hot young mistress Agness (Lake Bell).
While Jane may be - according to her friends - in desperate need of a date, Meyer makes divorced life look pretty good, aspirational even if Jane's Martha Stewart-like existence is anything to go by.
With a picturesque house in upmarket Santa Barbara, Jane runs a popular deli-cafe, is mother to three adult children and finds the time to whip up beautiful meals and adorn her kitchen bench with French pastries.
On a trip to New York for her son's graduation, she agrees to have dinner with her ex which, to her surprise, leads to the two of them having an affair. Much hilarity ensues, especially when Jane also starts dating the kind, gentle architect Adam (Martin) who is renovating her home.
With comedy, you're never quite sure how Streep's going to react, and even though there is plenty of obvious comedy within this light material, such as getting stoned for the first time in 27 years, recovering from sex with your ex, and dating as a mature woman, Streep, with her unexpected reactions and perfectly timed expressions, makes it easy to laugh.
Alex Baldwin is a delightful scoundrel and Steve Martin tones down the comedy to also give a perfectly pitched performance. The role of Adam and Jane's children is mostly to comment on how damaging divorce is for kids but thankfully Meyers cast John Krasinski (Away We Go) as the eldest daughter's fiance, and he provides plenty of laughs.
It's Complicated drags on for longer than necessary, losing steam and laughs about three quarters of the way through, but with Streep and her co-stars in such fun fine form, it's easy to stick it out.
Cast: Meryl Streep, Steve Martin, Alec Baldwin
Director: Nancy Meyers
Running time: 120 mins
Rating: M (Drug Use)