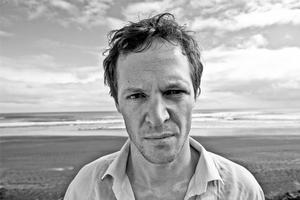 After researching serial killers for his first film, psycho-thriller I'm Not Harry Jenson, James Napier Robertson says he understands how a writer of gruesome fiction could be driven to insanity.
To create his main character Stanley Merse, a crime novelist who becomes disturbed by his subjects, Napier Robertson watched footage and read books about the world's most notorious killers.
"One of the scary things is how charming some of them are.
"It's a little unnerving because you can't necessarily tell him apart from other people," he says.
"I could very much relate with how someone could [go insane writing]. That world starts to feel normal."
Napier Robertson was reading about Richard Kuklinski, a serial killer also known as the Iceman, when he started jotting ideas for a thriller set in the Waitakere Ranges.
"As the book went on, it was obvious the author was falling in love with his subject and the killer was becoming the hero," he says.
The cogs were put in motion when Kiwi actor Tom Hern asked Napier Robertson to go out for a drink while they were both living in Los Angeles scouting acting opportunities. They had shared their fascination with what went on behind the camera since they met on the set of The Tribe in their late teens.
On this particular occasion Hern told Napier Robertson he was interested in producing one of his films.
He was promptly shown a draft version of what then became I'm Not Harry Jenson, said yes, and the pair starting talking seriously about how they could make a great film on a puny budget.
Napier Robertson was 24 when he sat down for eight sleepless months to hone the script, and Hern was 22. Neither had made a feature before. But what the pair lacked in age and experience, they made up for in optimism:
"With youth you are a little more indestructible, you have a real 'go for it' attitude. You are possibly naive about what you think you can pull off but that actually can help you," Napier Robertson says.
He and Hern were absolutely resolved that they would make the film, which they decided could be achieved on a minimum budget of $50,000.
After a rushed effort to write, shoot and edit a four-minute teaser, they attracted funding amounting to $175,000 - about a twentieth of the budget of other New Zealand films.
"It fits into the 'no budget' category of films. A lot of short films have that budget," Napier Robertson says.
But that money ended up covering the cost of helicopters, cranes, stunt men, prosthetics as well as a "dream cast" that included veteran actors Ian Mune and Ilona Rodgers and cinematographer Rhys Duncan who was a camera operator on Peter Jackson's King Kong.
"It was really important that it never felt or looked low-budget. We really didn't want it to look like it was struggling in any way," Napier Robertson says.
What they did skimp on was time. The entire film was shot in 18 days, two of which were rained out. That meant shooting up to 12 pages of script a day and running two digital cameras at all times to maximise the amount of footage.
Napier Robertson and Hern didn't allocate themselves a cent of the budget.
"Everyone that got involved was aware that we were really doing this on the smell of an oily rag," Napier Robertson says.
And really, that's also what it was written for.
Knowing that he would not have money for special effects, Napier Robertson wrote a script that relied on the impact of striking scenery and strong acting.
"I wrote it like a stage play where it is a lot about the actors - the characters and environment they are in.
"As the story unravels, the Waitakeres turn from a beautiful place to an imposing and ominous prison," he says.
The final result, screened to a sell-out audience at last year's Auckland International Film Festival, will screen in 20 cinemas around New Zealand from next week and is now making a lot of people overseas very excited.
"It's absolutely blown people away, especially in the States; when they see it they just can't understand how we could have done something like this with the money that we had," Napier Robertson says. "You actually had to convince people that you weren't lying when you told them the budget."
Napier Robertson hopes the success of I'm Not Harry Jenson will help him secure funding for other scripts he has in the pipeline.
And what will he do if he secures more funding the next time around?
"Car chases and gun fights and explosions!
"No, I think with more money it would allow you a bit more freedom. When you don't have a lot of money you have to shoot extremely quickly, really race through it at times ... not every script can be told on a low budget."
Lowdown
Who: James Napier Robertson, Kiwi actor-turned-film director
Age: 27
Previous roles: Being Eve, The Tribe, Power Ranges
Latest: Psycho thriller I'm Not Harry Jenson
When and Where: Released in Rialto cinemas from January 28.