Did you go to the Big Day Out? Click here to send us your Big Day Out 2010 photos to be featured online.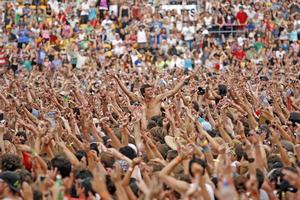 The Big Day Out once might have been about short, sharp sets by acts wanting to impress before the audience wandered off looking for their new favourite band.
But this year you were lucky to find a song coming in under 3mins.
For this was the year when the 21st Century version of 1970s prog-rock ruled.
All stacked part vocals, extravagant space-rock tunes, and lots of songs which had history texts as required reading.
Well, that's what it felt like with bands such as Atlanta metallers Mastodon playing early on through to the arty rock'n'roll pomp of headliners The Mars Volta and Muse.
Also, Brits dominated, with dance rockers Kasabian, pop star Lily Allen and Groove Armada whipping up a sweaty late-night danceathon in the Boiler Room.
Then there was motormouthed lippy Londoner Dizzee Rascal, who sent the main arena bonkers with his yabbering hip-hop-meets-dancefloor set, capped off with a triple dose of his hits Dance Wiv Me, Holiday and, as an encore, Bonkers.
But the show also offered a line in weird and mostly wonderful Americans such as electronic crazies Passion Pit, hippy wonderboy Devandra Banhart, and baroque folk-rockers Decemberists.
On the local front, ambitious Kiwi bands such as Midnight Youth and Kora got the chance to bring their stadium-sized music to the main stage and held their own.
The energy and showmanship of Kora - the genre-mashing band of Whakatane (mostly) brothers - got them the biggest crowd response of the afternoon in a performance that will go down in Auckland BDO history as a memorable local triumph.
And so much for the forecast of rain - it was mostly a hot and sweaty stunner. But here are the best bits.
Best frock
Lily Allen looking saucy in a slinky pink mini and a leafy and flowery crown. After a slow start, her set won over the throng already thrilled by the likes of forerunner Dizzee.
Best shirt
Ed Knowles of the Checks looking lovely, sweaty and floatie in his puffy white pirate shirt. The Checks were a middle-of-the-day highlight, the songs off last year's Alice By The Moon giving the band an extra punch to their earlier blues-rock fundamentals.
Best Midge Ure lookalike
Or was it George Harvey from The Lovely Bones? Or perhaps Elvis Costello? Ian Kenny of Tool-like Perth metallers Karnivool struck a killer pose with his slicked-back hair, black rimmed spectacles and pasty skin.
Best recovery
Atlanta's woolly metal mammoths Mastodon, whose vocals sounded awful during first song Oblivion, the opening track off their last album Crack the Skye which they played almost in its entirety. You have to forgive them though, since not many metal bands have a three-way vocal onslaught to sort out, and they never missed a beat for the remainder of a riveting, goat-throwing set. These hairy, bearded, tattooed hillbillys look like primitive men from another time and place and they sure play like it too.
Best main-stage moment
Midnight Youth's All On Our Own, which brought their set to an end. Songs like that are proof they've always wanted to be an arena rock band and they filled out the main stage admirably. Although their cover of Black Sabbath's War Pigs left their many fans standing flat-footed and a-goggle in disbelief at this unholy racket that the lovely lads dished up.
Best top-field moment
New York hot shots Passion Pit got the first big crowd of the day up on the top field and, with it, the first big sing-a-long to The Reeling, and ending with a mass jump-along to Little Secrets. They also get the prize for best tease with a noodly version of Van Halen's Jump.
Best Brit rock

Britain's Kasabian amassed one of the biggest crowds of the afternoon on the main stage. You can tell they've played a few festivals in their time with a snappy set of songs covering all three albums with Shoot the Runner, Where Did All The Love Go? and raucous encore Clubfoot making for a hands-in-the-air good time.
Best sag
After Kora, Aussie rock veterans Powderfinger put in a set that made you wonder about their billing here. Especially with a false start on a late song and the need to drag out a cover of rock'n'roll chestnut Summertime Blues. Though some folks still swayed in time to hit ballad My Happiness.
Best stage move
The relocation of the Local Produce Stage over yonder. Shame hardly anyone felt like showing up in the afternoon to see some of the more obscure and loud local acts, like Lord of Tigers and Mountaineater. The latter gets the "best mistreatment of an instrument" award for Tristan Dingemann's repeated end-on-end thumping of his guitar.
Best gymnastics
Foul-mouthed Peaches, a BDO repeat offender, who, after stripping her homeless (or was it cave-woman?) attire to reveal a most interesting leotard, walked across the hands of her audience. She later commanded that they all take off their shirts, and they obliged.
Best personal Jesus
Devendra Banhart. His prophetic ramblings and upbeat folk set provided some welcome respite for those escaping the crowd at Dizzee and the sweat of the Boiler Room.
Best Englishmen in the midday sun
The vampire-like Horrors seemed the only Brits on the block who accepted their skin likes sunscreen - and lots.
Best charitable act
Masterton's own Ladyhawke, who is rallying for the people of Haiti. She also played a radio-set of retro-esque singalongs.
Best group party
Dance act Girl Talk, who had the Boiler Room sweating to a souped-up rendition of Thriller - and picked the best dancers to mount the stage too.
Best best-of set
The Mars Volta were at their microphone-stand-throwing, guitar-wielding and operatic best with a greatest-hits set - if you can call their sprawling and chaotic epics that - making them a main-stage fav'.
Best sci fi glam rockmonster
Headliners Muse for their main-stage finale. Their thundering set of grandiose anthems gave the night the perfect explosive fireworks ending to a slow-fused kind of day. And despite the Queen comparisons that will always dog them, they sounded like a band embracing the future on a day which seemed to be about finding interesting seams in the past.
nzherald.co.nz has hundreds of photos from BDO.
Your photos
Crowds
Crowds #2
Crowds #3
Onstage action