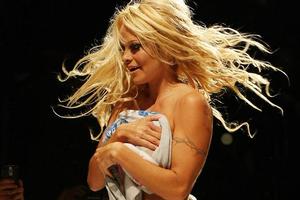 Pamela Anderson doesn't mind being stereotyped as a "dumb blonde" because she has built her career around the image.
Speaking about her image, she said: "I think it's funny. We all have to have a sense of humour about ourselves and other people. It's definitely one of those things. I made a career out of it. I guess ignorance is bliss – when I do interviews people always say, 'Aren't you upset that people make fun of you?' And I'm like, 'Are they making fun of me?' I guess I just don't get it."
Asked if she knew any dumb blonde jokes, she said: "I don't. That's how dumb I am."
However, Pamela, 42, who is currently the face of Vivienne Westwood's fashion range, claimed many of her friends appreciate her image as she is more of an art icon to them.
She told Britain's OK! magazine: "I have great friends who I really admire – artists and great people who understand that it's like a pop art thing."
- BANG! SHOWBIZ