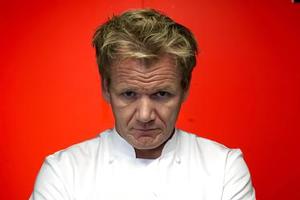 He's the foul-mouthed ogre of the kitchen who cooks up as much controversy as he does Michelin-starred food with his expletive-laden television rants.
Gordon Ramsay's love affair with cooking may, however, be going off the boil.
Ramsay, whose global food empire nearly went bust this year with £17 million ($38 million) debts, has said that he wants a life out of the kitchen.
His business partner and father-in-law, Chris Hutcheson, said: "I can run the business in Gordon's name. TV is his forte - that's what he likes doing."
And Ramsay's publicist, Phil Hall, confirmed yesterday: "It's a long-term ambition of his [to leave the kitchen behind]. It's something he talks about, that he'd like to move away from the business at some stage, but he's talking about a few years down the line.
"He doesn't want to spend his life connected to the business. He wants to do other things - although he's not saying what they are."
Ramsay is a star on both sides of the Atlantic for programmes such as Kitchen Nightmares in which he tries to fix other people's failing restaurants, as well as The F Word and Hell's Kitchen.
His television fees - thought to be about £2 million a year in the UK and £5 million in America - together with cookware endorsement, cookbooks and gin sponsorship have given him a personal fortune of about £50 million.
But he nearly lost everything this year when he had his own very public kitchen meltdown.
A rapid expansion of his restaurant empire - he had opened restaurants in many of the world's major cities including Dubai, New York, Paris, Prague and Tokyo - had not worked out.
The overseas restaurants were losing money and the Royal Bank of Scotland, which had extended a £10 million loan and overdraft facility, sent in the auditors. They recommended bankruptcy and the closure of his best restaurants.
To make matters worse, the chef's company also owed about £7.2 million in UK taxes.
His rotten year was compounded in April with newspaper claims he was serving frozen food in four of his London restaurants. His company maintained the food was still freshly prepared in a central kitchen before being delivered to the restaurants.
But the episode did nothing for the chef's reputation, for whom bankruptcy would have been a disaster.
"It's not great if you're making a show called Kitchen Nightmares and advising people on how to fix their businesses, for you to go bankrupt," said the programme's producer, Pat Llewellyn.
Ramsay himself said: "Everything was on the line. December, January, February and March were the most highly pressurised, shitiest, most awful four months I've ever had in business. There was no f***ing way [bankruptcy] was ever going to happen. That was never even an option."
Ramsay had overstretched. His television commitments meant he couldn't devote the time to all the kitchens under the umbrella of Gordon Ramsay Holdings.
Staff cuts, restaurant closures and an injection of £9 million from Ramsay and Hutcheson's own fortunes have put the company back on track, but it's no wonder Ramsay seems to have decided to put all his eggs back in one basket.
A clue may be in his attitude to diversifying into TV, a move which made him a star but almost ruined him.
"You tell me a chef anywhere in the world that's prepared to turn down quarter of a million dollars for an hour's work on TV," he said, "and they're the biggest lying bastard that ever put on a chef's jacket."
- INDEPENDENT