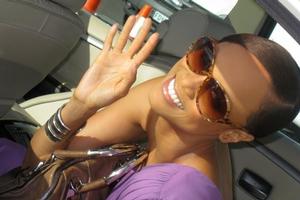 Former supermodel Tyra Banks has snubbed Rotorua. The host of television show America's Next Top Model had been rumoured to be going to Rotorua. It is now understood she will not be travelling to that city.
After keeping a low profile, she has been spotted in Auckland locations, including Northcote's Engine Room restaurant, on Friday night.
Earlier this week, there were reports that Banks was staying at Novotel Rotorua Lakeside and that she was visiting Te Puia. Later reports suggested it was only the producers of the show who would be at Te Puia, scouting filming locations.
Destination Rotorua Tourism Marketing media adviser Justine Southwick said Banks and the film crew would not be coming to the city. She could not confirm whether the film crews had been scouting locations in the area.
"I know the crew were really keen to come to Rotorua but due to their tight schedule they just don't have enough time," she said.
Southwick said it was disappointing. "It would have been a good opportunity to showcase Rotorua on a worldwide scale."
Judge on the show and photo-shoot director Jay Manuel has posted regular comments on social networking website Twitter. He posted photos of himself at Hobbiton in Matamata. Last night he commented: "Giving a shout out to everyone in Queenstown! My gosh it's stunning here!!! NZ keeps getting better everyday!"
The New Zealand episodes will feature in the show's 14th series, but it will be a while before it is on in New Zealand, which has just seen the 11th series.
- additional reporting Rotorua Daily Post