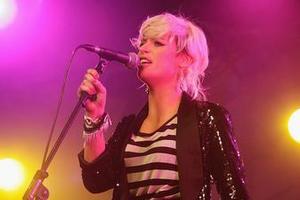 Kiwis love to lay claim to something that's making waves overseas, and Gin Wigmore's Auckland crowd nodded with pride as the bouncy blonde threw them their favourites from her chart-topping album.
The Artisan Guns' opening act may have been tight, but was a little too abstract for the pop-loving audience.
They were there to croon and clap along in the places they could, and sway along in the others. And they had their chance when Gin - a pretty punk in combat boots, low-slung jeans and a saucy lace bodysuit - emerged with legendary American rockers The Cardinals.
Cute and cartoon-like but soulful and raspy, Gin knew just how to tap the buttons of her audience.
Fans melted as Gin told them, in her thick-and-husky Kiwi accent, that they were gorgeous and she wanted to pack them all up and take them with her.
Having The Cardinals on board has turned Gin's rustic, folkish songs - which used to suit a guitar and a bar-stool in the corner of a Ponsonby drinking hole - into slick stage numbers.
She gave the sold-out Powerstation a mix of the chirpy pop from her EP Extended Play with the more poignant, sway-along songs of her hugely successful album Holy Smoke.
This album, released two months ago, may have been written after a tumultuous break-up, but Gin has disguised many of her aching lyrics behind country-rock, blues or even ukulele-strummed melodies that give her audience something to bop to.
Then again she's not afraid to show that she's not all Gin with a grin, with soulful tunes Dying Day and Golden Ship, the ballad she wrote for her dog's funeral when she thought he was going to die although he didn't.
The audience was also treated to Hallelujah - the heart-breaking promise Gin wrote for her father when he died.
Lifting the tempo for the end of the set, Gin made sure no foot went untapped when she jumped about the stage with sing-along EP hit Under my Skin and recent hit Oh My.
Ukulele in tow, she returned for an encore with coo-some Lucy, and ended the evening with Mr Freakshow.
Gin's set was short but snappy, emotive but happy and delivered all the songs the fans knew the words to - which was just what they had ordered.