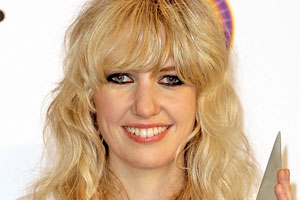 New Zealand born singer Ladyhawke has been crowned the breakthrough artist of 2009 at the Australian Music Awards.
Ladyhawke, whose real name is Phillipa Brown, claimed the ARIA awards for breakthrough artist single - for her track My Delirium - and breakthrough artist album when the awards were handed out at Sydney's Acer Arena on Thursday night.
She said it was exciting to be recognised for her first solo album.
"I wanted to write exactly the sort of music I would want to listen to myself," she said.
"I've always been a huge pop fan and I wanted to experiment with pop and push myself and see how far I could go."
It's been a bumpy road to the ARIA Awards for Brown. The singer caused controversy when she was nominated for five ARIA Awards because she was born and raised across the Tasman, and is now based in London.
But Brown lived in Melbourne and Sydney for four years, and formed the group Teenager with Nick Littlemore of Pnau and Empire of the Sun.
She took out breakthrough artist single and breakthrough artist album awards ahead of the likes of Jessica Mauboy, The Temper Trap, Sia and Lisa Mitchell.
Brown said she didn't want to get involved in the trans-Tasman controversy.
"I have no idea the way the ARIAs work as far as the finer details go," she told media backstage after accepting the awards.
"I was incredibly honoured to be nominated. I think it's a shame that there was a bit of a dark shadow cast on it because I didn't mean for that to happen and I didn't want to upset anybody or offend anyone.
"I feel bad but confused, because I'm not sure the way this whole thing works."
Brown said it had been an amazing year for her since releasing her self-titled solo album.
"I think it's really cool because I never thought of myself as a pop star or a pop type person."
2009 Aria Awards Winners
Album of the Year: Empire of the Sun, Walking on a Dream
Single of the Year: Empire of the Sun, Walking on a Dream
Breakthrough Artist Album: Ladyhawke, Ladyhawke
Breakthrough Artist Single: Ladyhawke, My Delirium
Best Group: Empire of the Sun, Walking on a Dream
Best Female Artist: Sarah Blasko, As Day Follows Night
Best Male Artist: Daniel Merriweather, Love & War
Best Rock Album: AC-DC, Black Ice
Best Pop Release: Empire of the Sun, Walking on a Dream
Best Urban Release: Hilltop Hoods, State of the Art
Best Dance Release: The Presets, Talk Like That
Best Blues & Roots Album: CW Stoneking, Jungle Blues
Best Country Album: Troy Cassar-Daley, I Love This Place
Best Independent Release: Bertie Blackman, Secrets and Lies
Best Adult Contemporary Album: Josh Pyke, Chimneys Afire
Best DVD: Sia, TV is my Parent
Best Childrens Album: The Wiggles, The Wiggles Go Bananas!
Best Comedy Release: Hamish and Andy, Unessential Listening
Highest Selling Single: Jessica Mauboy, Running Back
Highest Selling Album: AC-C, Black Ice
- AAP