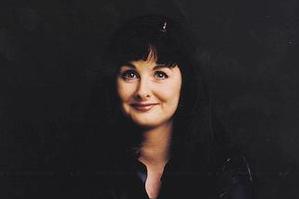 Marian Keyes sounds exhausted. The Queen of chick-lit is on the phone from her Dublin home talking about her latest book, The Brightest Star In the Sky (Penguin, $37) but she sounds like she'd rather be lying in bed with the duvet over her head.
"It's always like this when a book comes out," she admits. "I've used up so much energy and feel awful. I just want to sleep."
Instead Keyes is caught up doing publicity, trying to write her next book and falling prey to the depression that has stalked her practically her whole life.
"I think I have an ongoing brain imbalance," she explains in a tired, flat voice. "It comes in bouts and when it does it's very hard. I remember feeling it at 14 but I didn't know what it was. In my 20s I went to a doctor and I know now it's a part of who I am. At times it's overwhelming and I do take medication. Often people think that depression is something that will pass or that they're doing something wrong but it's just an imbalance of chemicals in the brain. And my brain is out of whack."
Keyes is a recovered alcoholic who has tackled the issue more than once in her writing. All her stories, just like her, are a blend of dark and light and usually they're about people in a dark place who ultimately find redemption. Her books are funny and hopeful, with a serious seam running right through them.
The Brightest Star in The Sky is about a diverse group of characters who live in the flats at 66 Star St, Dublin. Keyes says she was inspired by the 44 Scotland Street series by Alexander McCall Smith. "I loved the idea of the house and the way it gives him the chance to write about disparate characters and their intersecting lives."
In her previous book, This Charming Man, she tackled the theme of domestic abuse and this time the dark heart at the core of the story is the issue of rape. "I think in many ways the two are companion books," says Keyes, "even though they're enormously different. In both there's that theme of violence against women and the way society at large treats it."
Both novels are also evidence of a feminist awakening Keyes went through several years ago after a trip to Ethiopia with the Irish charity Concern.
"I was sent there to help raise awareness and it was an experience that I can't put into words because it was just so different to anything I'd ever encountered before," she says. "Concern works with the poorest of the poor and what I quickly discovered is that the poorest of the poor are women. That journey opened my eyes to the state of women, first of all in the undeveloped world, and then by a process of progress to the state of women in the developed world."
Keyes cites the appalling statistics - women do two-thirds of the work in the world and receive 10 per cent of the world's income.
"My generation was told it was all over. That the feminist war was won," she says. "But in fact, we're still second-class citizens and we seem to be in denial about it. It's not just the measurable things - I think that New Zealand may be quite progressive but elsewhere in the world there's this pervasive way of thinking. Women simply don't have the same weight as men. In Ireland there's a 6 per cent conviction rate for rape. I refuse to believe that 94 per cent of rape claims here are vexatious."
Researching the rape part of the plot proved difficult for Keyes. Victims didn't want to talk in person and she found herself having to contact them through internet chatrooms.
"I wanted to explore how difficult it is for the man, the partner of the woman because that's an untold story and it's damage that's never acknowledged. But again I couldn't find anyone to speak."
All this makes it sound as if Keyes has produced a dense, worthy book and of course that's not the case at all. She's blessed with that legendary Irish trait of being able to laugh in the face of adversity, and The Brightest Star In The Sky is enormously entertaining. Keyes says she enjoyed writing it because she thinks it's such an upbeat, optimistic story.
"I had no control over the tone, I never do," she says. "It just comes out that way. It sounds precious but I have very little choice even in the story that's given to me. I wish I did because I'm really struggling with the next one."
Very often Keyes doesn't find writing easy. At times it's torturous even. And yet every day she sits at her desk from nine to five trying to make it happen. "It's a day job," she says. "Not something that happens at odd moments in the middle of the night."
Her husband Tony helps with admin and she has a couple of friends she calls on to pitch in with research. "But you can't brainstorm like you can with other jobs," she points out. "At the end of the day it's just you."
Success around the globe has been huge and her fans are legion but Keyes still bridles at the way the phrase chick-lit is often used pejoratively to describe books like hers.
"It's just another way of having a pop at women," she argues.
"Chick-lit is often judged by people who don't enjoy reading it.
"People go on and on about how great Philip Roth is for example while I think he keeps writing the same book over and over again - but then I'm not his target audience. I used to get angry but really, who cares? There are far more important things to worry about. And I know the worth of what I write."