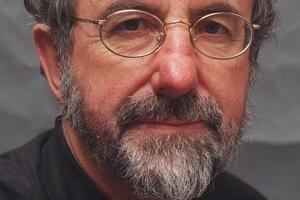 There may be something special in the air on Newton Ridge. It begins clear and sparkling in Newton and gets more acid and rarefied as you go along K Rd. You could say it's reflected in what's on show in the Newton area art galleries.
James Ormsby has an exhibition of his precise drawings at Whitespace just below the ridge in Crummer Rd. His work in the past has been at its most potent when he has done big drawings on paper that showed a sky, a sea of life and a deeper undersea world. On the seas were ships and waka representing the interaction of Maori and European culture. There are two such big works in this show.
Waka is an intricate drawing with a gleam of gold in the depths. A hand rises from the surface clutching treasure drawn from the world of myth and history. Also on the surface is a bird drawn with delicate accuracy.
There are birds, too, in each of the Manu Suite, where the images are much smaller and immediately pleasing. Each one is a species such as tui, kingfisher and heron. The head is drawn with great knowledge and skilful use of colour but the body is a saw blade, sharp and black.
One edge is plain, the other has wicked teeth. These blades look real, with the holes and shapes necessary to fit into machinery. From the bottom of the blade, a series of pencil lines emerge that suggest the bird's tail. Each bird seems curiously fitted to its blade. Typically, the head of the kokako is complemented by the curving saw on which it is mounted. Biblical quotations, Maori proverbs and sayings are delicately lettered on the works.
What is suggested is the beauty of the bird and the attack made on its habitat by machinery. There are also other levels of meaning about the interaction of natural and mechanical things and the way the birds are a gift that is threatened but could be saved. There is a reference to the Psalms - "Blessed be the Lord who hath not given us as a prey to their teeth." This is apposite when one contemplates the menacing serrated sharpness of the saw teeth.
One large work that is different from the rest is a big portrait head, unmistakably Maori. On the nose of the dignified figure is optician's equipment with which he tests eyesight to find which lens, which insight, will serve best. This is a major work, but the gems are those precisely composed birds.
In the back room at Whitespace the air becomes a little less bracing with dozens of collages by Christchurch artist Martin Whitworth. He is a first-class draughtsman as a group of four drawings shows. Two called The Artist and His Muse are excellent characterisations.
The rest of the show is collage with some drawing, all preoccupied with women except for a couple about David Hockney and Ralph Kitaj nude together. The torn images are taken from many sources including pulp fiction, an Italian book on Matisse and images from old books on history, particularly Greek art. So there is a feeling of women in many places including in bed with men, and strong connections between beauty in antiquity and the 20th century.
The whole is a great tumble of ideas and images, improvised, exotic, erotic and somewhat repetitive.
At the top of the ridge at Two Rooms the air clarifies into the puritanism of abstraction. It is nevertheless stimulating. In the main gallery is the work of Simon Morris. It includes one huge work that occupies a wall. Morris' method is to take a precisely painted line and make an intricate geometrical maze. The viewer follows a path that wanders across, up and down, making shapes but never changing.
Then it turns in on itself and returns along other precise paths that intersect with the original and arrives back where it started. This big image has to be experienced. One must yield to it and let your eye follow its windings. There is every chance you will get lost and have to start again.
This is not true of the smaller works, although they follow the same kind of intricate pattern. They are clever and well wrought but they are a different order of execution from the big painting called Black Line - 3 hours and 15 minutes. This is the time the artist's steady hand took to paint it.
Upstairs at Two Rooms another exceptionally large painting by Jeena Shin called Fractus is articulated along its whole length by triangles. Across a black background the triangular elements in shades of grey work their way from left to right. On the left they are small and proceed in solemn rhythmic dance, becoming bigger and stronger, until they begin to fall towards the bottom as an inevitable climax.
Analogies are often made between abstract painting and music but this work is really like some giant fugue. It is the high spot in this accomplished painter's career so far.
In K Rd at Starkwhite Gallery Richard Orjis occupies a multi-media approach. His theme is transitoriness. His images are a puff of smoke, a big sculpture of gym equipment adorned with candles to suggest work out as you may, life burns out at the end. A couple of photographs of orchids growing with the lovely flowers trained to stand up straight with hooks reveal beauty more hanged than trained.
The exhibition shows an acute sensibility not yet finding complete expression.
AT THE GALLERIES
What: James Ormsby - drawings; Martin Whitworth - collage
Where and when: Whitespace, 12 Crummer Rd, Ponsonby, to Oct 31
TJ says: Ormsby's works, large and small, are filled with precise detail and work on many levels, human and natural, Maori and European. Whitworth exploits collage to contrast antiquity and the present with various ideals of the beauty of women as a constant theme.
What: Folding Water, by Simon Morris; Fractus by Jeena Shin
Where and when: Two Rooms, 16 Putiki St, Newton, to Nov 14
TJ says: Morris takes a clean, decisive painted line for a walk on fine canvas very cleverly but makes a step up when he works on a large scale on a wall. Shin also does big work that takes triangles on a rhythmic dance.
What: Work, by Richard Orjis
Where and when: Starkwhite, 510 K Rd, to Nov 6
TJ says: A typical multi-media artist explores the mutability of life in photography, sculpture, painting and black and white photographs.
For gallery listings, see www.nzherald.co.nz/go/artlistings