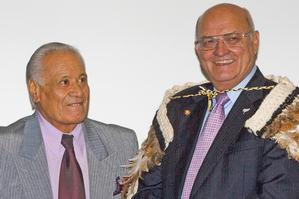 Billionaire Owen Glenn remembers the time aircraft were re-routed so the man who called him "brother" could sing a few songs to fireworks.
Sir Howard Morrison accompanied Mr Glenn to the MGM Grand in Las Vegas years ago to give what the philanthropist recalls was an explosive performance.
"He was singing Frank Sinatra's My Way to pyrotechnics. They even redirected the aircraft because of the fireworks."
Sir Howard invited Mr Glenn on stage with him to sing but stage fright stopped him.
"I said, 'You sing in eight octaves and I can only sing in one', but he said, 'I've got you covered, brother'."
Mr Glenn, at Te Papaiouru Marae to say his last goodbye to his friend, said: "We were kindred spirits, really. It was quite unusual ... He always called me his brother.
"We had a lot of opportunities to talk about things ... We wanted to save the world together, which is why we wanted to change the song My Way to Our Way.
He believed Sir Howard would have lived longer had he accepted his suggestion to become Governor-General.
"We missed out on a good New Zealander giving a lot more back. I firmly believe he should have got the Governor-General job."
* Order of service beginning at 11am
PRELUDE
Rewa Ututaonga
MIHI/ WELCOME
Bishop Ngarahu Katene
INTRODUCTORY PRAYERs
HYMN
Tukua Ahau
PRAYERS OF REMEMBRANCE
Te Inoi a Te Ariki (The Lord's Prayer)
READINGS
Psalm 23 read by Sir Howard's grandchildren Anaru Te Whanoa and Hiwaroa Ngarangi
- Terry Morrison (cousin)
HYMN
Whakaaria Mai (How Great Thou Art)
HOLY GOSPEL
Richard Te Tau Morrison (son)
SERMON
Tom Poata
EULOGY
Donna Mariana Grant (daughter)
VOCAL TRIBUTE
Dame Malvina Major
WORDS OF TRIBUTE
Anaru Grant (son-in-law)
HYMN
Au e Ihu Tirohia (Jesus, Look Upon Me)
ADDRESS BY DEPUTY PM
Hon Bill English MP
A READING
Judith Merenia Tapsell (sister)
PERSONAL VOCAL TRIBUTE
Howard Morrison jnr (son)
PRAYERS OF COMMENDATION
FINAL HYMN
Tama Ngakau Marie (Son of Peace)