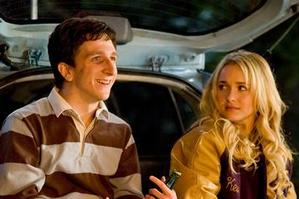 On the small screen as Heroes' seemingly indestructible Claire Bennet, Hayden Panettiere has become the break-out star of the series.
But in one of her first film roles since the success of the show, she can't escape her roots.
In coming-of-age teen comedy I Love You, Beth Cooper, Panettiere, 20, stars as as the titular character, the most popular girl in school and a cheerleader.
"I don't know why I always manage to find my way back to the cheerleading outfit," says Panettiere.
Beth is the object of affection of Denis, the nerdiest guy in school, played by unknown actor Paul Rust, who declares his love in a speech to his classmates. And on an overnight over-the-top adventure the couple form an unlikely bond.
Surprisingly, director Chris Columbus, the man who brought us Home Alone, and two Harry Potter movies, is at the helm of this risque film based on the comic novel by former Simpsons writer Larry Doyle.
The reviews haven't been kind to the film and since its American release it has struggled to make back its modest US$18 million budget.
Not that that probably fazes Panettiere who has a regular job to go back to. And in person, trying to talk up the film, she's every bit the pin-up, dressed today in tight white denim shorts, perfectly spray-tanned legs and a snug fitting T-shirt.
But the facade of image is what the movie is about, she insists. "The movie is like a metaphor because Beth Cooper is this image of perfection to him, but he doesn't really know her at all. And even though I haven't gone through what Beth does, I understand insecurities and not believing in yourself."
Not the usual attire for one who is apparently lacking in confidence. "I'm in the position of being under extreme judgment and scrutiny. People love to point out flaws," she insists.
Her insecurities notwithstanding, she had no problem throwing them aside for the sake of her art and appears in a semi-nude scene. "Oh, that didn't bother me. I mean, if I can't flaunt it at 20, come on! I might as well show it now," she laughs.
I Love You Beth Cooper is centred - like many before it - on high school graduation day and the celebrations marking it.
Like many actors who begin a career in childhood, Panettiere didn't have the typical high school experience. "I was homeschooled, but I didn't miss out on anything because I went to elementary and middle school. I still hung out with those kids when they went to high school. So, I had really great high school experiences like the prom, even though I didn't actually go to high school."
You could say that the coming-of-age, end of high school/beginning of college is a genre unto itself, as countless movies will attest. And, education being the theme of the day, Panettiere says her Heroes character is attending college, but in real life, she didn't follow that path.
"I do very much believe in education. I've got 15 alumni on my mother's side from Duke University and my grandpa was valedictorian. My grandparents met there, my great uncle was the dean of the law school, so I have a huge side of my family that is very well educated. So, genetically I'm well educated."
Er, quite.
Proving she's no slouch, she says, "I'm also very interested in history and I have a bunch of books at home. I sit there all day and I watch the History channel for 12 hours straight on TV because science has always been a big thing for me. I would have liked to go to college but it didn't quite pan out that way for me."
Independent from a young age, she explains, "College is not only about education but it's about the first time on your own without someone telling you, 'You need to do your homework,' or, 'You need to get up at this time to go to class.' That social experience I know very clearly because I've been on my own.
"I've had the opportunity to travel all over the world and see beautiful countries. I've talked to incredibly intelligent, well-educated people, I've been involved with politics, I've been involved with environmental studies and have gotten a great education on the things that I'm curious and passionate about."
Who: Hayden Panettiere, perpetual cheerleader
What: I Love You, Beth Cooper
When: Opens at cinemas today