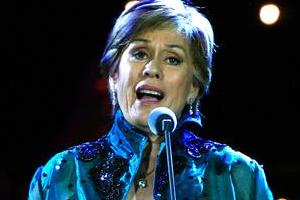 Dame Kiri Te Kanawa is to retire from opera, saying the work is "exhausting".
She will sing her last opera at the Cologne Opera in Germany next April when she plays Marschallin in Der Rosenkavalier by Richard Strauss.
Dame Kiri, 65, told the Telegraph newspaper in London "It's not as if I want to do it on a regular basis now, because it's exhausting.
"I think certainly our voices change. Opera is mainly for young people."
She has not sung opera since 2004 when she played in Samuel Barber's 1958 work Vanessa at the Los Angeles Opera. Most thought that would be the end of her operatic career, but she this week said she had never retired.
"The press retired me," she told the Telegraph. "I have not been singing opera very much but I still sing a lot of concerts."
She will not give up singing and will continue her touring concert schedule with performances in Sydney, Beijing, Spain and America in coming months.
- NZ HERALD STAFF