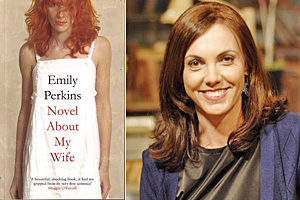 Emily Perkins has won the top prize in this year's Montana Book Awards, with Novel About My Wife awarded the medal for fiction or poetry.
The book, about a grieving husband reconstructing events that led to his wife's death, was described by judges' convenor Mark Williams as "highly assured fiction by a writer working at the height of her powers".
"Novel About My Wife is sophisticated and urban, with characters that inhabit crabbed and threatened worlds. It registers the minute nuances of class, concealment and reserve in domestic English life.
"Perkins has in a sense recolonised English literature."
Wellington writer Jill Trevelyan won the non-fiction award for her biography on celebrated artist - Rita Angus: An Artist's Life.
The awards' judging panel, English literature academic Dr Williams, journalist Margo White, and novelist Jane Westaway, said Trevelyan's book was a "treasure".
"Trevelyan's writing is elegant and lucid and the book's scholarship is exemplary."
Kate De Goldi won the readers' choice award for her novel The 10pm Question, the story of 12-year-old Frankie Parsons who saves his most worrying questions to ask his mother each evening at 10pm.
The awards were presented at a gala dinner ceremony at Auckland War Memorial Museum last night.
The judges said this year's selection of books reflected the global recession.
"It is significant that, among the books of 2008, are lavish books on food, culture and domestic architecture.
"Yet we found that the books we judged do not display self-indulgent consumption but self-scrutiny, scholarship, reflection on the past, and positive shifts in cultural outlook."
He Pataka Kupu te kai a te rangatira, (A Storehouse of Words - the food of chiefs) the first dictionary written entirely in te reo Maori, won this year's Te Reo Maori Literary prize.
It was compiled by Te Taura Whiri i te Reo (the Maori Language Commission) and contains 24,000 words.
Te Reo Maori literary award judge, Hone Apanui, said the dictionary was a ground-breaking work that had a major role to play in the ongoing renaissance of te Reo Maori.
The winner of the te Reo Maori Literature Award received a $5000 prize.
The full list of winners is as follows:
Montana Medal for fiction or poetry and fiction winner - Novel About My Wife, by Emily Perkins.
Fiction runners-up - The 10pm Question, by Kate De Goldi and Acid Song, by Bernard Beckett.
Poetry winner - The Rocky Shore, by Jenny Bornholdt.
Montana Medal for non-fiction winner and biography winner - Rita Angus: An Artist's Life, by Jill Trevelyan.
Environment winner - A Continent on the Move: New Zealand Geoscience into the 21st Century, edited by Ian J Graham.
History winner - Buying the Land, Selling the Land, by Richard Boast.
Reference and anthology winner - Collected Poems 1951- 2006, by CK Stead.
Lifestyle and contemporary culture winner - Ladies, A Plate: Traditional Home Baking, by Alexa Johnston.
Illustrative winner - Len Castle: Making the Molecules Dance, by Len Castle.
Each winner was presented with a prize of $5000. The winners of the Montana Medal for fiction or poetry and the Montana Medal for non-fiction were presented with an additional prize of $10,000. The runners-up in the fiction category received $2500. The Readers' Choice Award carried a prize of $1000.
The winner of the best first book award went to Eleanor Catton for The Rehearsal.
Sam Sampson won the best first book award for poetry for his collection, Everything Talks.
The best first book award for non-fiction was awarded for Mates and Lovers: A History of Gay New Zealand, by Chris Brickell.
Each Best First Book Awards category winner received $2500.
- NZPA