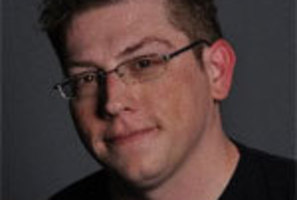 Zombies are a sign of the apocalypse. So says writer Seth Grahame-Smith. Well, more or less. More precisely, he says zombies tend to start appearing in popular culture when times get tough. "They are a walking metaphor for the ills we find ourselves up against. They've been used to represent everything from the threat of communism to the Aids epidemic and crass commercialism."
With an interminable war on terrorism, global economic meltdown and any number of would-be flu pandemics people are, at the moment, feeling decidedly apocalyptic. And, lo, here come the zombies, particularly in print. Most recently in Carrie Ryan's Forest of Hands and Teeth and now Grahame-Smith's internet sensation, Pride and Prejudice and Zombies - with co-writing credit to one Jane Austen. Although possibly that's not going to stop the Regency queen rising from her grave to snack vengefully on Grahame-Smith's brain for his irreverent treatment of her most famous novel.
Pride and Prejudice and Zombies (Quirk Books, $29.99) was born in the imagination of Quirk Books editorial director Jason Rekulak, who made himself a list - literary classics on one side and modern literary phenomenon such as werewolves, vampires, robots and zombies on the other.
"Then he called me," says Grahame-Smith, who has previously written several books for Quirk including How to Survive a Horror Movie, The Spiderman Handbook and The Big Book of Porn, as well as several TV scripts.
"He said all I have is this title: Pride and Prejudice and Zombies.
Before he'd even said the word 'zombies' my head was filled with this image of aristocrats in Regenc-era clothing running for their lives, and of the Bennett sisters flying around Crouching Tiger, Hidden Dragon-style."
Grahame-Smith was so excited at the idea of writing "gratuitous, violent, gory sequences in the imitated style of Jane Austen" that he rushed right out and bought the original to reread. He'd read the book just once before, at high school as a 14-year-old, and was not a fan. When he reread it though, things changed. "I suddenly got it. Not only is it a brilliant piece of literature but you also understand that Jane Austen is very funny - and sarcastic.
"Realising that made this adaptation even more exciting because there was some basis of humour to build on."
Of all the classic literature that could have been given a monster makeover, Pride and Prejudice works best, and particularly with zombies, for several reasons, he say. "I think it would be less surprising if we had werewolves and vampires in there because we can imagine those creatures in that period of time. Zombies, right off the bat, are a more modern phenomenon and thus a little more surprising."
Then there's the strength of Austen's most-loved heroine - the feisty, sharp-witted Elizabeth Bennett. "It's very easy to imagine giving that character larger scope by putting a sword in her hand."
Plus, conveniently, in Pride and Prejudice, there are lot of soldiers milling about for no apparent reason, begging to have something to fight. "It's never really explained what they are doing there. Obviously they are a plot contrivance - for the girls to flirt with and to allow the introduction of the villainous Wickham. But really, what are they doing in the middle of the country when they should have been off fighting Napoleon? It's not much of a leap to say they're there fighting a zombie menace."
And for all those who think Austen let the wicked Wickham off a little lightly, Grahame-Smith delivers a rather more brutal comeuppance for both him and the odious Mr Collins. "Everything in this book is exaggerated. All the original characters and scenes are there, they've just been given an absurd scope. When it came to Mr Wickham and Mr Collins punishing their wickedness or their daftness, a little more severely seemed appropriate."
The one character who doesn't quite deserve her grisly fate is poor Charlotte Lucas, sacrificed to the author's need to demonstrate the gruesome transition from human to zombie and, in the process, provides some of the book's funniest scenes.
Grahame-Smith is unrepentant. "I do feel like I did her a favour because becoming a zombie was probably not as poor a fate as being married to Mr Collins."
Now he's overseen the Regency zombie apocalypse, Grahame-Smith is done with monster mash-ups, even though there is a Pride and Prejudice and Zombies film rumoured and a print sequel planned.
For Grahame-Smith, the real prize of the book's success is it has allowed him to expand his writing into broader original fiction. Although for his next project he's staying close to that blend of history and horror, this time leaving zombies behind for vampires, with the tantalisingly named Abraham Lincoln: Vampire Hunter.
"Again it's kind of a gimmicky horror history, but this time it's wholly original; a reimagined biography.
"It's one of those things where I had it all written it out and thought, 'Wouldn't it be nice if I got to write that one day'. And now the success of Pride and Prejudice and Zombies has generated interest in it.
"It will have that same comic spin and it's a very different thing to write a biography and have it read funny - that's my goal, to have it a mix of fiction, humour and factual accuracy."
That book will land next year which means Grahame-Smith will spend the next few months up to his neck in the comic supernatural once again. But it seems appropriate - there's an apocalypse coming after all.