Director Michael Hurst has taken the outcast hungry children of Hansel and Gretel and plonked them in the sixties in a new opera production. Linda Herrick reports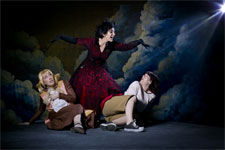 A deep dark wood, a wicked witch with a house made of candy, children fattened up and turned into sweets so the witch can gobble them up ... those Brothers Grimm knew how to rattle kids when they wrote Hansel and Gretel, among many other fables, 200 years ago.
Then German composer Engelbert Humperdinck - the real one, not the English crooner - decided the story of the brother and sister banished to the woods would make a lively opera as well. Hansel und Gretel, first performed in 1893, proved to be Engelbert's biggest success. Some say his only success ...
Performances of the opera have usually stayed in period, with the woodsman dad Peter (James Harrison) in traditional German costume, and Gertrude the mother (Helen Medlyn) - who sends the children out into the woods - a pinafored hausfrau. Not so with the NZ Opera production, which is touring the country from the end of this month. Director Michael Hurst and designer John Verryt have put their cast in 60s outfits, with Medlyn, who plays both mother and witch, sporting a bouffant hairdo. The two children - played by Anna Pierard and Ana James, wear shorts and T-shirts. "The kids are like modern kids. There are no lederhosen," chuckles Hurst.
The opera is touring 15 centres, and the budget is tight so Hurst has stripped the production right back - although Verryt's painted backdrops are lavish and imaginative. The only two props on stage are a broomstick and a milk jug.
A rehearsal of Act One, when Peter arrives home drunk, only to find his children are in grave danger, sees Harrison working hard with the broomstick. "You held that broomstick really well," Hurst tells him afterwards, going on to explain, "The props are symbolic and important. The reason I was able to say that to him was because I had asked him to fixate on it when he sings, `They ride on it, they ride on it'. There are going to be footlights and scary shadows at the back and we see in the shadows a foretelling of what is going to happen."
This is veteran actor-director Hurst's first foray into opera, and he is intent on helping the singers overcome movements he describes as "the kind of underwater-type feeling opera can get into. I know when they fall into the same sort of traps that actors do which is being too busy."
Like Harrison's earlier efforts at acting "drunk", for instance. "Halve it, then halve it again," were Hurst's instructions. "Drunk is a classic one," he says. "If you make one gesture of drunkenness, that tells the audience you are drunk. If you spend the whole time wobbling, we get really annoyed. I remember one lesson was keep one foot stuck on the floor and just move it slightly every now and then," he adds, giving a flawless demonstration of a drunk.
Hurst's previous work with panto helps. "It does pay off. The witch's fireplace - we blow a fan through the white material and light it red and it's like a hell mouth - that's like panto. But when you say panto, I think you really mean 18th century theatre techniques - the reveals, the clouds slowly being wheeled apart. It's all old-fashioned - it'll look fabulous."
Hurst is directing Hansel and Gretel straight on the back of his production of Threepenny Opera at the Maidment.
"I thought this would be easier, less people," he says. "True - less people, but this sea of music. I am a bit stressed. I am blinking a bit slower than I would normally do," he adds with a laugh.
LOWDOWN
What: Hansel and Gretel
Where and when: The Centre, Kerikeri, June 29; Bruce Mason Centre, North Shore, July 3 & 5; Manukau TelstraClear Pacific Events Centre, July 7, then nationwide.
Booking info: www.nzopera.com; children 12 and under $25; adult tickets $40-$51
By Linda Herrick

Email

Linda