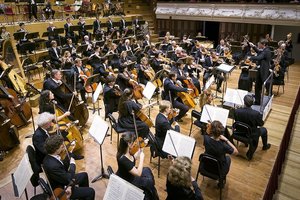 The Mozart Requiem may have made for an almost full house on Thursday night as Auckland Philharmonia Orchestra's 2013 Choral Masterpiece, but the concert's inclusion of two Haydn works was very much appreciated.
Canadian conductor Bernard Labadie almost jived on to the podium for one of those early Haydn symphonies that we hear far too rarely. Forget the work's nickname, "Lamentatione" - this was frisky business, brimming with the energy and chutzpah of the pioneering Haydn.
The smaller-than-usual orchestra combined precision and glee when the first movement erupted into D major and, later on, the Minuet's Trio was peppered with off-beat sforzandi.
The APO revealed, yet again, its programming savvy by following this with the composer's First Cello Concerto - both scores share the same earthy vigour, along with thematic parallels in their slow movements.
Alban Gerhardt was a spirited soloist, sweet as an Austrian dessert wine in the high register, yet not afraid to lash out with a guttural double-stop in the Finale, spinning through passagework that sounded like manic Vivaldi.
After interval, Mozart's Requiem was presented in the Robert Levin reconstruction, allowing Labadie scope to search out the soul and drama of the piece.
Throughout, one was transfixed by the clarity and focus of Voices New Zealand Chamber Choir, but would one expect any less with the redoubtable Karen Grylls as its director?
The 32 singers convey a wide range of emotions and have no fear of Mozart's fugal demands. The orchestra blended beautifully across the range, especially when Levin's restored Amen separated a heart-breaking Lacrimosa from the bristling Domine Jesu Christe.
Labadie favours strong, almost theatrical contrasts, and they worked well for the composer of Don Giovanni, nowhere more so than when the women's voices floated like angel song from the fury of the Confutatis maledictis.
Of the four soloists, one surrendered totally to the resonant tone and immaculate phrasing of mezzo Sarah Castle, and the well-projected fervour of Paul McMahon's tenor. Soprano Nicole Car occasionally displayed a disconcerting vibrato for a young singer while Stephan Loges' Tuba Mirum showed, yet again, the perils of giving this bass aria to a baritone.

Review
What: Auckland Philharmonia Orchestra
Where: Auckland Town Hall
Reviewer: William Dart