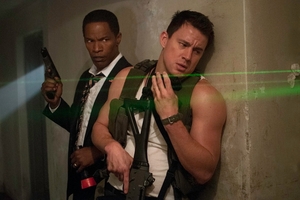 Roland Emmerich has wrecked the world probably more than any other director. He's levelled it with aliens, with giant lizards, with global ice storms and continent-killing quakes in films Independence Day, Godzilla, Day After Tomorrow and 2012.
In Independence Day, of course, he death-rayed the White House and now he's back at the same address. But, by ID's standards, White House Down is a drawing room drama with the odd breakage of priceless crockery.
True, there is still much loss of life and President James Sawyer (Foxx) clearly won't be getting his bond back, given the damage to most of the place's 132 rooms when it is taken over by men with guns.
And true, the Capitol goes up in flames first as part of this - cue TV news graphic - Attack on America.
The assault is something to do with Sawyer's peace plan which involves pulling US troops out of South Korea ... whoops, wrong movie. That was Olympus Has Fallen from earlier in the year, which had a home invasion of North Koreans.
It was a cheap and nasty Die Hard knock-off.
This, on the other hand, is a better-appointed Die Hard knock-off that isn't as bad or as dumb as it could have been. But Emmerich's epics have always had decent actors - or at least decent double-acts - helping make the wildly implausible mildly entertaining. And so it is here, with Jamie Foxx as an amusingly Obama-esque President and Channing Tatum as "John Cale" as the prez's only hope and, eventually, the wearer of the John McClane memorial white singlet.
Tatum is a cop at the Capitol with a military background who wants to step up from protecting the Speaker of the House (Richard Jenkins) to being part of the POTUS' Secret Service detail.
Because his pre-teen daughter is a White House fangirl, he brings her along to his West Wing job interview. It doesn't go well because the interviewer is an old college flame (Gyllenhaal). Dad and daughter decide to take the tour.
Bad move. The men with guns arrive. While daughter is in the bathroom, the tour is taken hostage. The president, too, is elsewhere. Dad does what he has to do ... and so the happy mayhem begins.
Meanwhile, at the Pentagon, Gyllenhaal gets to be the voice of sanity and constitutional rules while the madman in their midst reveals himself - a look at the cast list might give it away.
Yes, WHD's implausibility factor starts off sky-high and climbs from there in a movie that's at least 20 minutes too long. But the sparky performances of Tatum and Foxx in front of Emmerich's spectacular demolition work give this movie the required amount of just-go-with-it.
Stars: 3/5
Cast: Channing Tatum, Jamie Foxx, Maggie Gyllenhaal, James Woods, Richard Jenkins
Running time: 131 mins
Rating: M
Verdict: Die Hard goes to Washington, again
Follow @nzherald_ent on Twitter for all the latest entertainment news.
- TimeOut