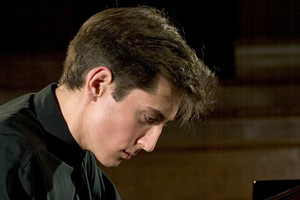 The New Zealand Symphony Orchestra's Friday concert took its title from Vaughan Williams' The Lark Ascending and its quarter-hour of pastoral rapture was a sober entrée.
Conductor Mark Wigglesworth fashioned a shapely weave, although soloist Vesa-Matti Leppanen's dependence on the printed score and occasional waver of confidence detracted from the overall effect.
The name that drew the crowds was Russian pianist Yevgeny Sudbin, here to convert non-believers to the cause of Beethoven's B flat Concerto.
Wigglesworth prepared the way with a cajoling exposition; Sudbin followed, his feline felicities with Beethoven's lines giving the classical twist required.
The cadenza, written much later, was a wild fugal foray with helter-skelter scales. Sudbin's vehemence suggested this was the work-out that Beethoven's themes deserved.
Encores were generous. A Scarlatti sonata, delivered with lingering fingers and pedal, sounded like a love child of Bartok and Debussy; the pianist's own dizzying transcription of Chopin's Minute Waltz seemed to squeeze 40,000 (sometimes delinquent) notes into four minutes.
Elgar's First Symphony was a brave work for 1908 and Wigglesworth caught anger and fury where others might have opted for a simple Allegro. His podium moves, from slow-motion stealth to brusque, almost accusatory gestures, underlined the many voices for the various marches in the score.
Saturday's Hear & Far was the new look of the orchestra's Made in New Zealand franchise, now mixing the local with the international.
Conductor Tecwyn Evans took the orchestra through John Adams' Harmonielehre, a prime example of minimalism for the thinking person.
The great musical engine kept on the tracks, with loops of string melody signposting our journey in the first movement. The crystalline textures of the central movement revealed the enviable finesse of these players.
John Psathas' Orpheus in Rarohenga must have been a budget-buster, with Wellington's Orpheus Choir making the trip north to sing for a half-full town hall.
Why revive this 2002 work, a lengthy and rather earnest oratorio, strung around fascinating but awkward Robert Sullivan words?
There is some lovely music here, particularly for the Venus character, and Psathas' palette is quite staggering, but Jenny Wollerman lost words in her high passages, Paul Whelan seemed uncomfortable in the depths and tenor Richard Greager, with many nervous glances at the conductor, sang with intelligence but a compromised instrument.
All in all, a poor substitute for the Gillian Whitehead, Lyell Cresswell and Chris Cree Brown the NZSO brought us last year, but, tune into Radio NZ Concert tonight at 8 and make up your own mind.
Music review
What: New Zealand Symphony Orchestra
Where: Auckland Town Hall
When: Friday & Saturday