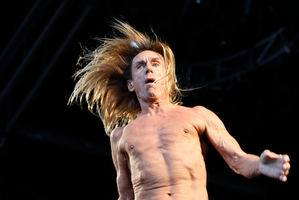 They're back. Again. And this time round, the new Stooges album is a step up in intensity and far more interesting than 2007's hit-and-miss The Weirdness. The best thing about that album, the band's first since 1973's classic Raw Power, was having them back, because it meant Iggy and the other 1967 originals, drummer Scott Asheton and guitarist Ron Asheton, hit the road again playing all the oldies and the goodies. That included two visits to the Big Day Out, the first in 2006 being a particularly devastating and dangerous performance courtesy of Iggy throwing his sinewy body and flailing limbs around the stage.
On Ready to Die, the only original survivors are now Iggy and Scott Asheton, as brother Ron died in 2009, but they are also rejoined by guitarist James Williamson (who joined in 1970) and 70s saxophone player Steve Mackay.
Right from the start of Ready to Die, opener Burn has the caustic mangling and abrasive steeliness of old, and Iggy is in fine voice, with that deep throaty groan building to a more melodic holler and occasionally escalating into a wild scream.
He sure doesn't sound ready to die on the arse-shaking groove of Sex & Money, and the subtle sleaze of the saxophone and quick-fire hand claps will have you ripping your top off and writhing and grinding right down to the floor.
The only weak link is Job, which sounds as basic and workmanlike as the title suggests. But then it fires back up for Gun, the band's anti-gun anthem with droll lines like "If I had a f***in gun, I could shoot everyone.", Dirty Deal is a wildly bluesy, Stones-style outing, and on Unfriendly Friend they slip into singer-songwriter country cabaret band territory, with Iggy as a sweet, passionate crooner.
Most surprising of all is the pomp and grandeur of Beat That Guy, and the beautiful folky baroque-meets-haunting slide guitar homage to Ron Asheton on The Departed (although listen hard at the beginning of the latter - there is a delectable hint of I Wanna Be Your Dog).
So it's still not Raw Power or Fun House or The Stooges, but hell, Ready to Die is great stuff. They're a bunch of refined songs that not only showcase the Stooges' elder statesmen status, but they're songs that sound well lived-in, and lean and mean, just like Iggy himself.
Stars: 4/5
Verdict: Still dangerous with some surprises on fifth album from original punk rockers
Click here to buy a copy of Ready to Die.
- TimeOut