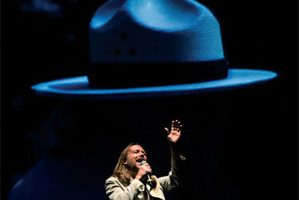 Album cover for Odeon. Photo / Supplied
On the suave side of electronica are long-run-ning Viennese duo Tosca (made up of Richard Dorfmeister and Rupert Huber). Their fifth album is darker and more foreboding than ever, with opener Zur Guten Ambience a static soundscape that sets the scene for what's to come. JayJay's creepy vocals and pinging primal beats is a strange mix of Kraftwerk and 80s' avant garde industrialists Throbbing Gristle, Meixner has more of a toe-tapping sophistication akin to American contemporaries Thievery Corporation (even though lyrically it's dark with lines like, "There's death in the creek and it's been there all week"), and the piano-soaked Cavallo is beautiful. Though it doesn't quite have the life and soul of their landmark 2000 album, Suzuki, which still sounds fresh.
Stars: 3.5/5
Click here to buy Odeon by Tosca.
- TimeOut