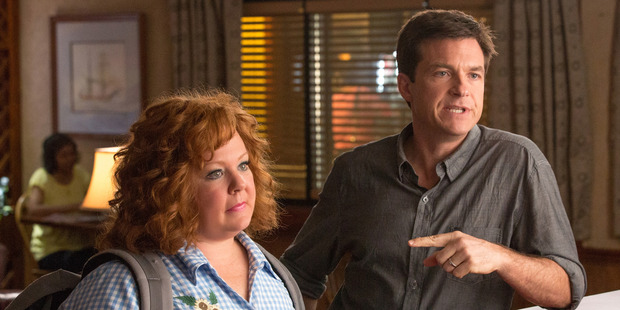 Jason Bateman and Melissa McCarthy team up in this cross-country caper, directed by Seth Gordon (Horrible Bosses) and written by Craig Mazin (The Hangover II).
Slapstick routines, road trip gags and a feeling of improvisation deliver a few good laughs, but there are too many miles between them.
Identity Thief tells the story of Sandy Patterson (Bateman), a family man from Colorado who discovers a female shopaholic and serial credit card fraudster in Florida has stolen his identity.
With a credit rating problem and criminal record, the only way for Sandy to clear his name is by flying to Florida to find "Sandy" (McCarthy of Bridesmaids and Mike & Molly fame), and driving her back to Denver.
The old unisex name gag gets a real workout but rather than get funnier the more times it's told, the joke continues to fall relentlessly flat. Bateman and McCarthy gel together well, but don't deliver as many out-loud laughs as you'd expect.
McCarthy gets a couple of moments but they're the kind that make you feel like a bad person for laughing, like when Bateman smashes her on the head with a guitar.
McCarthy does a little better with the lacklustre material than Bateman. She has a reputation for being able to do more than just comedy, and gives her damaged Sandy enough depth to never be beyond redemption, which is impressive as she's not always a very sympathetic character.
Bateman and McCarthy look like they had a ball making this comedy - unfortunately it doesn't translate to quite as much fun up on the screen, but if you like your humour silly and crude this may be a trip worth taking.
Stars: 2.5
Cast: Jason Bateman, Melissa McCarthy
Director: Seth Gordon
Running time: 111 mins
Rating: M (violence, offensive language and sex scenes)
Verdict: Bateman and McCarthy deserve better
- TimeOut