TV blogger Paul Casserly looks at the 'good gets' on recent current affairs shows, from Coro Street's Ken to one of the architects of the Iraq war.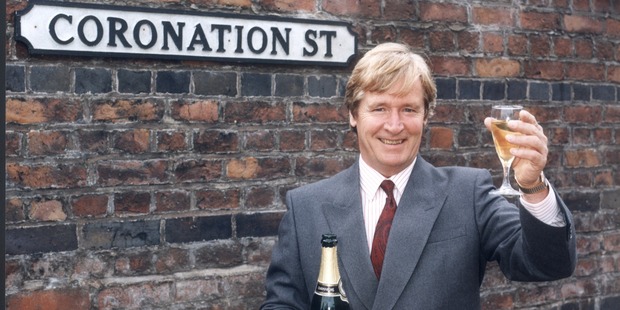 Sometimes it not so much the how, it's the who. And in current affairs a 'good get' is sometimes enough. The 'get' being an interview subject who can be relied on to deliver something we can't turn away from.
This week has seen some great 'gets.' First up the man who plays Ken Barlow, the original cast member of Coronation Street.
Ken is about to take part in a stage show tour of New Zealand, so was keen to talk to Garth Bray from the Sunday programme. Ken, real name William Roache, has been on TV for longer that we've actually had TV in NZ. And despite the falling ratings and ageing viewership the Street is still firmly welded into TV1's weekly schedule. If you're a fan then a visit to the Street itself is always good telly. So far, so PR, you might have thought, but Bray had a curly one lined up for Ken and it created a curly reply.
When asked for his thoughts on the child abuse allegations aimed at the likes of fellow Coro actor Michael Le Vale (Kevin Webster), William who should have stuck to a defensive shot, went big, going for a 6, and exposed his wicket badly. The upshot was some waffle about teenage strumpets who tempt 'popstars' and presumably actors, and some new-age dribble about karma that seemed to blame the victims of such crimes. Oh dear. It lead to an apology of sorts the following day.

Next lamb to the slaughter was Brendan Horan. Not content with being one of strangest weathermen in our televisual history, he then went on to infamy as one of the worst New Zealand First MP's as well.
Allegations that he took dosh from his mother were followed by leaked revelations about his gambling and tabloid headlines about his personal life. Winston Peters kicked him out of the party, but Brendan stays on as an independent. Ruwani Perera from the new look Native Affairs got to ask Brendan what he thought he was up to. Did he deserve the big salary, $140,000, despite having no mandate? "Well I don't set the wages" came his reply, "that's what MP's get paid." Nor could talk about the matter relating to his late mother's missing money because that was "before the courts". He also had some not so veiled threats for "certain sectors of the media".
But the smiling MP came alive when the subject of his own bravery in Japan came up. Apparently he had performed CPR and saved a man's life and had the certificate to prove it. "Actually I'll show it to you. Did you hear about that? Hey I'll show you my lovely award, (To a person off screen) can you just grab my award'" We then got to see his award. It was like an episode of Veep.
3rd Degree continues it's strong run, and this week had a very good 'get' in the form of the story of an old kiwi joker called Vernon who's in a Filipino jail for duping a local out of 5 grand.
Naturally Vernon thinks he hasn't done anything wrong. Mind you, even the judge who sent him seems to like him. Being the Philippines, the sentence for a crime like this is a stiff one. Vernon is in jail for 20 years, although if he can come up with 5k he can get out. Our government doesn't want to know, as they are, unsurprisingly, not keen on bailing out dodgy people in foreign jails.
Still, for a 66 year old, 20 years is pretty much a death sentence. This 'get' meant that reporter Sarah Hall had to go all the way to the Philippines where she filmed Vernon in jail. Twitter lit up. Some bashed the Government or lashed out at the show itself, why couldn't 3rd Degree just cough up the money? It probably cost twice as much for the TV crew to get there. In the end the viewers, egged on by the show, have put their hands in their pockets with some $30,000 being raised to get Vernon out of his unpleasantly sticky porridge.
No such happy endings on CNN though.
Ten years on from the Iraq War, the man who's been described as one of its architects fronted up to Fareed Zakaria, on his often excellent GPS.
Bush-era Defense Secretary Paul Wolfowitz was unapologetic for his part in what is now seen as the biggest f**kup since Dunkirk, or at least Vietnam. Although he did have some sadness for the loss of "American life and treasure." At first glance I thought this was also a great 'get', but the interview turned out to be a fizzer.
No mention at all, from guest or host, about the devastation dealt to the Iraqi people. Yes the Americans did lose some 5,000 lives, but estimates suggest at least 150,000 Iraqi civilians have also died. Their country is in ruins. There was no Al Qaeda there before the invasion ... don't get me started.
Perhaps, I thought, the problem with getting the big 'gets' like Wolfowitz is that in order to get them back, you have to tread carefully? But it seems there was something else at play here too. Despite his sharpness on many issues, Zakaria was himself an advocate for the war. Indeed he once joined others, including Wolfowitz, at a 'secret meeting' to drum up support for it. (Documented here by the Washington Post.) So perhaps there was something else that stopped Zakaria from mentioning the appalling death toll. Blood, hands, etc.
Sunday, TV1, Sundays 7pm
Native Affairs, Maori, Monday, 8.30pm
3rd Degree, TV3, Wednesday, 8.30pm
Fareed Zakaria GPS, CNN, Sunday 12 am, Monday 2pm