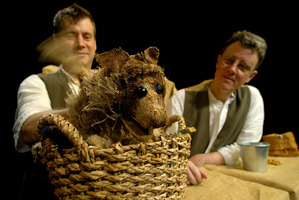 I'm a sucker for verb conjugation jokes and terrible puns, but even so, this is way funnier than a charming, gentle, simple yarn has any right to be.
Actor Richard Medrington describes life on a barren, windy plain near the Alps in France in 1913: "The women stay at home and nurse grudges." But happily, as the story goes, life changes after a few decades thanks to the trees planted by the title monsieur. The tale unfolds at a wonderfully unhurried pace, stopping to smell the flowers along the way - quite literally as lavender is wafted through the audience.
The simple rustic props include metal pails, hand-crafted models and puppets of hessian, of faded brown hues.
A quality show from Edinburgh-based Puppet State Theatre Company which adults can enjoy, with or without children.
The Man Who Planted Trees
Where: Concert Chamber, Town Hall