A rhinoceros keeper's unrequited love is the basis for an superbly acted play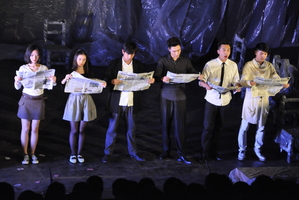 This rich 1999 experimental classic from China is stylish, hip, humorous, streetwise - and hopelessly romantic: under youth's swagger are youth's desperate illusions.
With jumbled dream logic and arresting tableaux, the piece riffs on unrequited, obsessive love, using as illustration hapless rhinoceros keeper Ma Lu who pines for his neighbour Mingming. Mingming trifles with Ma Lu's affections, but she suffers a similar love-sickness; her dismissive off-stage lover treats her badly but she's too in love to leave. A loves B who loves C ...
Game shows, melodramatic soap operas and insipid pop are touchstones in Liao Yimei's lyrical script; but love is the subject that refuses to go away. It keeps puncturing through conversations about jobs and jackals, and sales pitches for toothbrushes. Apparently the toothbrushes increase libido: "Let us fly high and free in the sky of hygiene!"
The stage-side translations need to be read fast before they disappear.
Ma Lu attends a "love training course", and his friends want him to forget Mingming and go out with a wannabe pop star (her parody of "sexiness" is hilarious; and all the acting - facing the audience - is charismatic and excellent).
Zhang Wu's seemingly random set - thin black scaffolding, a treadmill, plastic-covered chairs, beds - and the flashy, technically impressive staging, directed by Meng Jinghui, can represent our hero's increasingly chaotic subconscious. Thus, in an early entrance, Mingming disturbs the plastic membrane that surrounds the stage, and against an otherwise limited palette of grey, white and black, her diaphanous, gauzy dress stands out, changing colour from white to yellow to red.
The play shows Ma Lu's full-tilt mythologising of his object of desire, without commenting on it. "Loving her is the best thing I've ever done," he declares. Liao Yimei leaves it up to the audience to decide whether to agree with him, to identify with him, or not.
If all you know about Chinese performance culture is its opera, this play is a complete revelation.

Rhinoceros in Love
When: Until March 12
Where: Maidment Theatre, Princes St
Reviewer: Janet McAllister