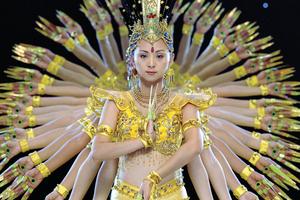 Master cameraman Ron Fricke, who was the cinematographer on 1982's iconic Koyaanisqatsi and went on to direct 1992's Baraka, returns with another visual spectacular that offers a wide variety of people, places and events in a widescreen celebration of life on earth.
Filmed over four years in 25 countries, Samsara is pure cinema of the highest order, a feast for the eyes that also tickles the heart and stirs the mind. Fricke's ability to capture the natural beauty of people and things never falters throughout the film, which takes on a transcendent quality as it moves from one stunning set-piece to the next. Wholly justifying itself as something more than a collection of images, this felt like a visual poem.
From the eerily lifelike dolls being built in a factory to the writhing masses of worshippers at a religious festival to the scarily in-time marching of a Chinese military parade, everything in Samsara points to a benevolent appreciation of the inherent beauty of this planet and its inhabitants. Do not miss the opportunity to take this in on the big screen.
Stars: 4/5
Director: Ron Fricke
Rating: PG
Running time: 98 minutes