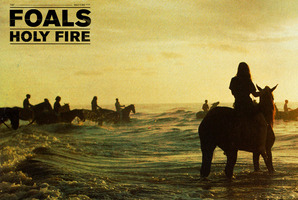 There's something a little corny about a band called Foals using a picture of horses for an album cover. It doesn't help the cheese factor when, on the ploddingly tedious My Number, frontman Yannis Philippakis starts singing cliched lines like: "I feel alive" with all the conviction of a hungover Chris Martin.
There's no denying the Brit-rockers know how to deliver a big single: 2008's Antidotes had the rowdy footstomper Cassius, 2010's Total Life Forever had slow-burning stunner Spanish Sahara, and Holy Fire has the grunty psychedelics of Inhaler, a song that's the centrepiece for an album that promises much, but only delivers occasionally.
Yes, Holy Fire is built to resonate around all four corners of a packed stadium, coming smothered in rich textures, atmospheric tinkering and hooks that build into hummable, well-timed choruses. It works on the folky Mumford & Sons-style canter of Milk & Black Spiders and the sweeping breakdown of Bad Habit.
But too often the lyrics feel like an afterthought: check out overused refrains like "I bleed just like you" on Providence or Bad Habit's "would you forgive me now?" When Philippakis coos "I know it'll be okay, just come this way" on Everytime, it's not a moment to wave your lighter around - it's time to call the Coldplay police.
Click here to buy Holy Fire by Foals.
Stars: 2/5
Verdict: Wanted: writer to edit band's lyrics
- TimeOut