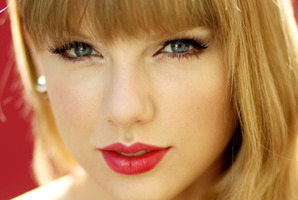 Really, where does Taylor Swift find time to write and record chart-topping albums? Because the 22-year-old singer/songwriter sure has a bunch of relationship issues to sort out too.
Take the trio of songs that make up the centre chunk of her fourth album - there's the wrangles of I Almost Do ("It takes everything in me not to call"), the break-up bile of mega-hit single We Are Never Ever Getting Back Together ("I hate you, we break up, you call me, I love you") and the lovers' tiff of Stay Stay Stay ("I threw my phone across the room at you"). Honestly, Taylor goes through boyfriends - preferably celebrity ones - as quickly as she writes songs.
Seriously though, Swift's musical output is astounding, releasing an album every two years since her self-titled debut in 2006, followed by classic country pop record Fearless, and Speak Now, which she toured New Zealand in support of earlier this year. Those latter two have sold 8.5 million and 5 million respectively and Red will do similar numbers. This week in New Zealand it debuted at number one and recorded the biggest sales week of 2012 so far.
However, though the fans have been given what they want, compared to the strong, straight-up and catchy collection of Fearless, Red is sometimes plastic and blatantly gunning for pure pop status.
For example, there is a weak diversion into dubstep on I Knew You Were Trouble, that wouldn't even rattle your love handles let alone your kneecaps like good dubstep-pop should.
Now, before I go on, I have to admit that being a 40-year-old bloke I'm probably not in Swift's target market - but three-quarters of my household are. And my girls' reactions to the album sums it up.
There are songs, most notably We Are Never Ever ... and the twang and raunch of Red, that incite mass sing-alongs and dancing, but on others, like dreary Sad Beautiful Tragic, my almost 5-year-old goes off to build a tent in the lounge and the 36-year-old loses interest.
The length - clocking in at more than 60 minutes across 16 tracks - is an issue, but could have been dealt with by culling thrumming indulgent epic All Too Well and the bombastic pop of 22, where she comes across mechanical and robotic.
But then this is Taylor Swift we're talking about, and she trots out sparkling and rousing tunes at will - and most of what is on Red is just that.
Holy Ground kicks along at a thigh-slapping lilt, the lovely strolling pace and beefy pitter patter of The Lucky One, and on The Last Time, her stirring duet with Snow Patrol's Gary Lightbody, is Swift as you've never heard her before (like a cool cross between Stevie Nicks and Cyndi Lauper).
These songs prove she's a strong enough songwriter to play it straight, while still being ambitious, and doesn't need whiz-bang dubstep-pop mechanics to make her songs shine.
Stars: 3.5/5
Verdict: America's country pop sweetheart goes a little too pop.
Click here to buy a copy of Taylor Swift's album Red.