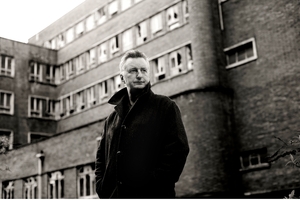 Welcome to the great folk music time machine. Just keep an eye on the ol' year dial though. It acts up sometimes.
Like just now - Billy Bragg is closing the first half of his show. The now grey-haired 54 year-old English singer-songwriter who came to prominence as an entertainingly angry young man in the 80s is singing All You Fascists Are Bound to Lose, a Woody Guthrie song from 1942.
With Bragg at full tilt, it's certainly stirring, the hillbilly-against-Hitler anthem of the original sounds anything but like yesteryear's propaganda.
The song was one of many recorded in 1998 by Bragg and American band Wilco for the Mermaid Avenue album, since expanded into a three volume box set to mark this year's 100th birthday of American folk Godfather Guthrie who died in 1967.
That project, instituted by Guthrie's daughter Nora, was mainly aimed at turning boxes of Guthrie lyrics, which had gone unrealised, into recorded songs.
The other aim, says Bragg, in one of his many engaging, funny digressive between-song chats was to remind there was more to Guthrie than just being the Okie-folkie writer of This Land is Your Land and Dylan's musical forbear.
So here, on the first night of a New Zealand tour to a packed town hall, we have Bragg, the Bard of Barking singing and discussing at length the wider legacy of the Dustbowl Troubadour. Later he will rail against the cynicism propelled by social media and deliver Never Buy The Sun, about the phone hacking scandal.
"You're so lucky you love in a country where the journalists are honest," he says in its introduction, pausing for the inevitable response, " ... that always gets a laugh."
All of which might not sound like makings of a big Friday night out. But it is - entertaining, educational and a reminder of how Bragg's own songs, his blokey bonhomie and leftist idealism have turned the onetime punk-rock busker into - well, at least for the faithful who sing New England from 1983 right back at him at the end of the night - a hardy perennial.
While the mood is mostly buoyant, especially as Bragg explains Guthrie's appreciation for a good lyrical double entendre, there is plenty that is plain gripping.
Like the lynch mob ode of Hangknot, Slipknot or the elegant ballad Go Down to the Water which Bragg set to the tune of the Irish traditional She Moved Through the Fair.
Or when, during his second set of his own songs he delivers his lament for his late dad, Tank Park Salute, which comes not long after offering amusing anecdotes about now being a father himself finding it hard to tell his 14 year-old guitarist son to turn it down when he can hear him playing Milkman of Human Kindness through the bedroom door.
Elsewhere, his late 80s Great Leap Forwards comes with updated lyrics, which rhyme "Margaret Thatcher" with "watching The X-Factor" while the encore of There is Power in A Union is certainly a blast from the past.
Yes he fluffs a few lines and his guitar skills still make a little go a long way. But this ride in the Guthrie-inspired, Bragg-powered folk music time machine is an absolute hoot.
Who: Billy Bragg
Where: Auckland Town Hall
When: Friday, October 12
-TimeOut