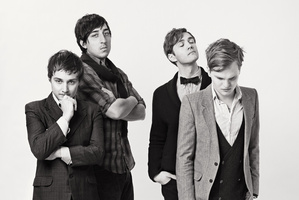 Complex harmonies and time signatures have always been the medium of New York four-piece Grizzly Bear, mixing beautifully soaring choral-like vocals with intriguing textures and coming up with songs that can still somehow be defined as pop.
On their fourth album there's a little less of the choirboy harmonies and a little more of a psychedelic rocker attitude to go with the heartfelt lyrics.
There's something oddly 70s-sounding about the opening two tracks, Sleeping Ute and Speak In Rounds, with warmly soaring melodies and winding guitar lines combining with unusual time signatures in a Woodstockian swirl.
A few 80s elements start creeping in on Yet Again, with its Supertramp-like keys part; and then they go in the opposite direction on The Hunt, blending jangling out-of-tune piano and guitar note bends with gently crashing cymbals in a sort of baroque dirge.
A Simple Answer provides the most immediate, propulsive pleasure but that's not to say there are no other gems to be slowly savoured. What's Wrong has an intimately spooky vibe, playing tricks on your ears with its different vocal placements and slowly breathing accordion.
And by the time majestic pop opera album closer Sun In Your Eyes draws to an end, you'll be ready to hit play again immediately.
Stars: 4.5/5
Verdict: Wilder, more urgent, fourth album from sweet-voiced intellectuals.
Click here to buy a copy of Shields.
- TimeOut