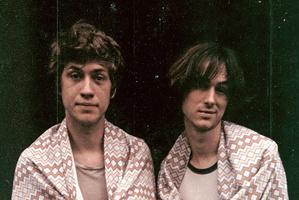 Perhaps this Nashville duo should call themselves "Jeff the Bruvverhood" as their debts to the Ramones (dense and fuzzy pop, aural references to 60s' girl groups, etc) are splattered across many of these 11 songs co-produced by the Black Keys' Dan Auerbach, who has brought out a marginally more pop element from them.
So reference points might now include garage-band Beach Boys, a more constrained but slightly-delic Dinosaur Jr and even the Meat Puppets - if they'd adopted teen pop instead of country as a touchstone.
All of which means Jeff frequently sound little more than a sum of influences and it's hard to share the enthusiasm with which American reviewers have greeted this often unadventurous outing.
Must be their anointment by Auerbach, because enjoyably thrashy though songs like the flat-tack Wood Ox and Staring at the Wall may be, there's not a lot of depth or originality on display. And Leave Me Out sounds like it might have been found in a Nirvana outtakes box.
Not entirely borrowed clothes (Region of Fire with sitar-guitar is kind of cool in a late 1968 way) although it ends with an unusual, wonky synth-supported cover of Sabbath's Changes.
Stars: 2.5/5
Verdict: Children of Joey 'n' Johnny and Kurt come out to play.
Click here to buy a copy of Hypnotic Nights.
-TimeOut / elsewhere.co.nz