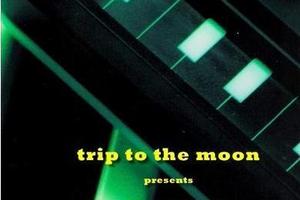 Trip to the Moon is another instalment in the long-running, if intermittent, project of Auckland multi-instrumentalists/producers Tom Ludvigson and Trevor Reekie, and various fellow-travellers: here Greg Johnson on trumpet, saxophonist Jim Langabeer, Ian "Dr Glam" Chapman on hang drums, bassist Peter Scott and oud player Haitham Mazyan. Here jazz, lounge, world music, imagined soundtracks and contemporary art music meet, and the genre-denying music alludes to much more through sonic samples, ambient passages, beat-driven trip-hop .... Any line between genres is invisible.
There are sections of gentle beauty (the ambient languor in the first half of The Landscapes Listens before the astral flight takes off, the stately and spare piano of Terese) just as there are disconcerting sections (the twisted pop guitars and propulsive Gatekeeper at the end, as attention-getting as the dramatic flourish of Opening Notes at the start). Although a dozen pieces are identified, within each the music morphs into new shapes as traditional instruments sit alongside synths (oud and Fripp-like guitar on I Give Me All), co-ordinates gently shift (Slant of Light a nod-off headphones treat) and reference points become irrelevant.
An inventive, engrossing soundtrack to a trip to wherever.
Stars: 4/5
Verdict: Welcome to worlds within worlds
- TimeOut / elsewhere.co.nz