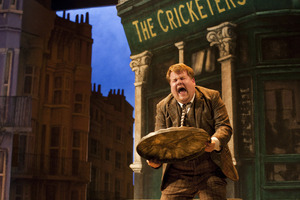 The quality of the NT Live* productions has been such that I have happily stuck five stars on reviews of almost all of them. This creates a problem in the present instance, because for the sake of relative accuracy I need to award this show seven.
The production, in an encore season after first playing last year, is the funniest thing I've seen on stage since Edna Everage stormed the St James in 1993 and by some margin the most purely entertaining of the series so far.
The play, written by Richard Bean, is an adaptation of the 18th century Venetian commedia dell'arte Servant of Two Masters, in which Harlequin (the genre's customary characterisation of a hapless servant) simultaneously secures two positions and strives, with comic results, to keep each employer unaware of the other.
Bean's version transplants the action to Brighton in 1963 and its music-rich style - which includes a fab skiffle band during scene changes - tips a hat to the broad entertainments of the Palace Pier's golden days.
The plot is so involved as to defy synopsis, but briefly this Harlequin is Francis Henshall (Corden from TV's Gavin and Stacey), a failed skiffle player who lands jobs with two guvnors - Rachel (Rooper), a woman disguised as her dead twin brother, who was a petty hood, and Stanley (Chris), an upper-class twit who (yes, I know it's improbable) is Rachel's intended even though he killed her brother.
The complications that ensue are handled with incandescent brilliance as the cast dances through Bean's fast-paced script. It's the kind of show in which characters' exits and entrances quickly get their own rounds of applause.
Edden's octogenarian waiter is a special treat in the long set-piece when a hungry Francis tries to serve two dinners at once, but all the performances are terrific. And Corden's show-stealing turn, which makes audacious use of the audience, is pretty much beyond praise. It should on no account be missed.
* NT Live is a project of London's National Theatre in which productions are filmed and broadcast in real time to cinemas on both sides of the Atlantic. We get them here on hard drive a few weeks later. It's commercially risky for the distributors who deserve the encouragement of all the custom they can get.
Stars: 5/5
Cast: James Corden, Oliver Chris, Jemima Rooper, Daniel Rigby, Suzy Toase Polly Conway, Jolyon Dixon, Tom Edden, Martyn Ellis
Director: Nicholas Hytner
Running time: 160 mins
Rating: E
Verdict: So funny it should carry a health warningJames Corden is a show-stealer in One Man, Two Guvnors.
- TimeOut