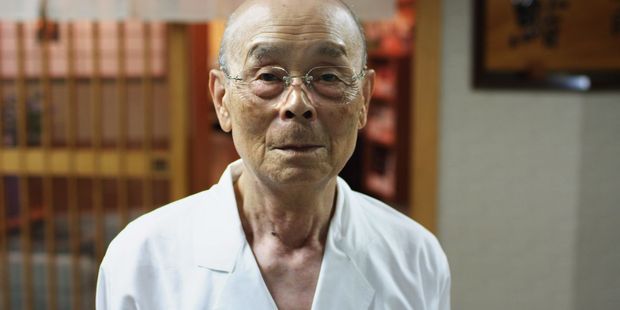 If you think that documentary films are about putting the hard questions, you may think this portrait of the man generally regarded as the world's best sushi chef doesn't give you enough to chew on: no one asks about critically endangered tuna, for example, or mercury levels or how a 20-minute meal that consists of 15 pieces of nigiri sushi will set you back $450 at Sukiyabashi Jiro - assuming you're lucky enough to get one of the 10 seats.
As its poetic title implies, Jiro Dreams of Sushi is not that kind of film. It's an unabashedly hagiographic portrait of 85-year-old Jiro Ono, whose eponymous restaurant occupies unprepossessing premises in a subway station in the upscale Ginza district of Tokyo.
Sukiyabashi Jiro has no toilet and three Michelin stars. A chef fans a charcoal brazier for hour after hour in the corridor. An octopus is massaged for an hour before being dispatched and sliced up.
There is no shortage of awestruck witnesses to Jiro's genius - including his apprentices, suppliers and customers and a food critic who says he feels intimidated.
Jiro's two sons, who work alongside him, presumably understand that reaction; they plainly know all about the burden of a father's expectations. Jiro, himself, meanwhile intones such epigrams as "each ingredient has an ideal moment of deliciousness" and "if it isn't perfect, you can't serve it".
By turns lyrical and luscious, the film is less a deconstruction of the art than a paean to it. Savour each morsel, but eat before you go or, better still, book into a nearby Japanese restaurant for when you come out.
Stars: 4/5
Director: David Gelb
Running time: 81 mins
Rating: G. In Japanese with English subtitles
Verdict: Zen and the art of nigiri sushi.
-TimeOut