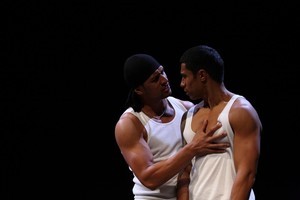 Silo Theatre's ambitious season opening is an all-too-rare opportunity to see the work of an African-American playwright on the Auckland stage - and Shane Bosher's creative and thoughtful production brings Tarell Alvin McCraney's script to life with intense theatricality. The result is a beautiful, brooding, atmospheric drama.
The tale of a young man torn between his stern brother and a friend he met in prison, the play starts with all three men breathing, slowly and deeply, in the dark. We hear the brothers' sighs - as per the title pun - for the same reason we hear singing and, later on, humour: they are techniques of resilience in the face of difficulty.
As the cold lights slowly come up, one man (an expressive Pua Magasiva) turns his palms up as if in a trance, while another (a sinister Te Kohe Tuhaka with hooded eyes) sings a slow, chain-gang lament accompanied by West African percussion (by John Ellis). The third (Jarod Rawiri, also excellent) rhythmically wields an invisible mallet, in back-breaking style.
Such occasional, Yoruba-inspired, ritualised presentations are one of the play's strengths. The bare simplicity of Rachel Walker's set - one beaten-up pail on an oil-stained floor - clears the way for the evocative drums, movement and voice to tell the story. Vera Thomas' lighting design creates meaningful shadow dances on the walls.
The script does have some weak points: repetitive arguments, two-dimensional characterisation - the good brother vs the victim of circumstance - and thin contextual detail. Also, not every seat is facing the stage from the best angle, and the pace could be picked up in quieter moments.
But, dressed by Sara Taylor in white singlets to show off their hunched shoulders and impressive biceps, all three actors rise to the difficult acting challenge; they are committed, their Louisiana bayou accents are respectable, their singing powerful.
And ultimately, its physicality, tension and loose, jokey conversations make this play compelling.
THEATRE
What: The Brothers Size.
When: Until June 18.
Where: Herald Theatre, Aotea Centre.