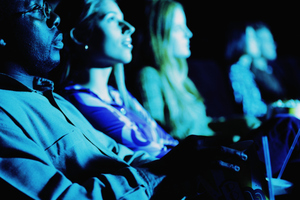 I have a confession to make. I love movie trailers. I'm one of those people who actually likes seeing 15 minutes worth of previews at the cinema, and I count trawling through trailers online as one of life's pleasures.
For studios, they're important (and often expensive) miniature works of art, marketing tools that are constructed and primed to give you up to three minutes of concentrated entertainment.
For viewers, they're a brief source of escape, provoking curiosity, awe, terror, sadness or laughter.
And they're called trailers because they used to "trail" the main feature at a cinema. That was a short-lived policy, because it was discovered that patrons often left the cinema when the film finished; but things might be different now, as demand for online trailers is as high as it's ever been.
In recent years, the release of a big trailer has become almost as newsworthy as the release of a film - and studios are getting clever in packaging much-anticipated trailers with much-hyped film releases too.
For example, if you're heading along to The Dark Knight Rises (which opens today), you'll be allowed a first peek at next year's Superman: Man of Steel. Talk about a captive audience; it's like directly injecting anticipation into the bloodstream. And punters love it.
But lately there's been a few complaints about trailers.
Most recently it's been the low grumbling that trailers for much-anticipated films like Prometheus, or The Amazing Spider-Man, or The Dark Knight Rises are giving too much away.
The new trend in releasing multiple trailers for a single film (each of those mentioned had at least three official trailers) may well be a good way to satiate the appetites of rabid fans, but there are those who think seeing so much online takes the shine off when the actual film is released.
Though I agree, with heady action films like these the trailers don't necessarily leave you with much of the storyline. They often piece together many short, bombastic segments, out of order, without context, in a sensory-overload style montage. Which means that though I know there's going to be many an explosion in The Dark Knight Rises, and I know a football field will blow up, a couple of bridges will disintegrate, and Batman will have to drive his flying-car-machine extremely fast, I don't know who lives or dies, or why Gotham's reckoning has arrived, or what Catwoman's intentions are.
So multiple trailers aren't a major complaint in my book - perhaps just don't watch all of them. More typically problematic are trailers that use up nearly all the decent jokes, give away the whole plot, or are quite simply misleading.
I don't have much time for people who didn't realise that Tim Burton and Johnny Depp's Sweeney Todd was a musical (really?!), or the woman from Michigan who wanted to sue director Nicolas Refn because "there wasn't enough driving" in acclaimed 2011 film Drive.
But I have sympathy for people who headed to Pan's Labyrinth thinking it would be a whimsical children's film (even though it was brilliant), or to Young Adult, expecting a broad comedy. It's not that these films don't deliver, it's that marketing teams disorient audiences by dumbing down the trailers, over-explaining the story, and trying to jump on the bandwagon of some previous success (ie. "Bridesmaids is The Hangover for women").
But if you do any research, you'll often be put right, and they're still useful guidance tools for getting a brief idea of the film - perhaps no more so than when it comes to selections for the film festival (which begins this evening).
When you're faced with such an array of treats, it can be overwhelming (even with the very informative festival programme at your fingertips) so the NZIFF has helpfully collated all their trailers on one youtube channel.