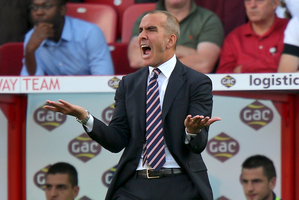 Former Sunderland chairman Niall Quinn has called on the club's next new manager to boost confidence as reports emerged Paolo di Canio was sacked following an extraordinary dressing room bust-up.
Di Canio became the first English Premier League manager to lose his job this season when he was dismissed on Monday, a day after a 3-0 defeat at West Bromwich Albion left Sunderland bottom of the table.
Renowned for his fiery temper as a forward, the Italian's methods during his seven months in charge at Sunderland went down so badly that it's reported several players told the club's board after the West Brom match they would go on strike if di Canio kept his job.
The Daily Telegraph said the final straw came after the West Brom game when di Canio was involved in a "furious two-hour row with his players" following their fourth defeat in five league games.
One witness to the post-match confrontation in the visitors' dressing room between di Canio, who won just two of his 12 league games in charge, and his side had said the scene was akin to "all hell breaking loose".
Several players, tired of the way they and their teammates had been subjected to repeated belittling comments by their boss, went nose to nose with their 45-year-old Italian manager.
The Telegraph said the row concluded when one player told di Canio: "All you've done since you got here is criticise us and the old manager [Martin O'Neill].
"The difference is we liked him and would run through walls for him.
"Nobody likes you here. Nobody wants you here."
Quinn, a former Republic of Ireland striker who ended his playing days with Sunderland and later had a brief spell in charge of the team, said the club's American owner Ellis Short needed to change tack if the team were to preserve their top-flight status.
"Sunderland need someone to galvanise the dressing room," Quinn said. "They don't need someone who's going to go out and say, 'I'm in a hopeless situation here, these players are no good'."
Former England boss Steve McClaren has been linked with the vacancy on Wearside, as has former Chelsea manager Roberto di Matteo.
But di Matteo's fellow former Italy international Gianfranco Zola, currently manager of second-tier English Championship side Watford, has ruled himself out of succeeding di Canio.
- AFP