Officials in plans to stabilise worrying sectarian situation in Iraq.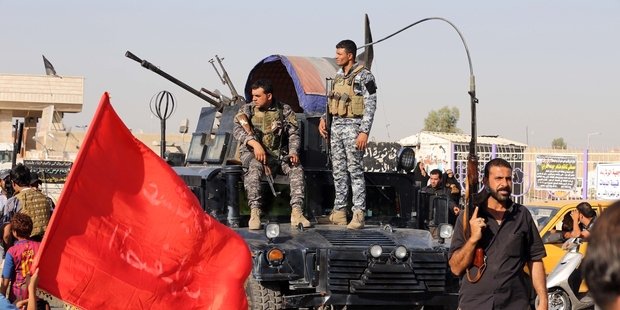 The United States and Britain are to enter talks with Iran over how to stabilise the situation in Iraq as the country headed towards a de facto partition between Sunnis, Shia and Kurds.
British Foreign Secretary William Hague spoke by phone to his Iranian counterpart Mohammad Javad Zarif, on subjects that included Iraq. He was expected to make another statement on Iran today, amid speculation that he would announce the reopening of Britain's Embassy in Tehran, which was stormed and looted in 2011.
The US also confirmed that it was prepared to engage with Tehran over events in Iraq, with a senior official saying talks were likely on the margins of negotiations over Iran's nuclear programme in Vienna this week.
Iraqi officials have confirmed that Iran has sent senior military advisers to Baghdad to help draw up plans to repel a jihadist advance on the capital.
The admission that Iranian help might be needed to keep Iraq from disintegrating came as the competing factions within the country drew up defences along sectarian lines. The US remains committed to a united Iraqi state but many in the country see a partition between Sunni and Shia areas as inevitable, with the Kurds already having the makings of a de facto state in the north.
As international pressure built on the Iraqi Government, US Secretary of State John Kerry said air strikes against the jihadists were an "important" option still under active review by US commanders.
The aircraft carrier USS George H W Bush arrived in the Gulf, accompanied by a cruiser and a destroyer both armed with Tomahawk cruise missiles. The Pentagon yesterday also ordered the amphibious USS Mesa Verde into the Gulf, with 550 Marines aboard.
The US is urgently deploying several hundred armed troops in and around Iraq and considering sending an additional contingent of special forces soldiers.
President Barack Obama notified Congress yesterday that up to 275 troops could be sent to Iraq to provide support and security for US personnel and the American Embassy in Baghdad. About 170 of those forces have already arrived.
While Obama has vowed to keep US forces out of combat in Iraq, he said in his notification to Congress that the personnel moving into the region are equipped for direct fighting. And separately, three US officials said the White House was considering sending a contingent of up to 100 special forces soldiers to Iraq. Their limited mission would focus on training and advising beleaguered Iraqi troops.
The commander of Iran's elite Quds Force, General Ghasem Soleimani, was in Iraq yesterday and consulting with the Government there on how to stave off insurgents' gains. Soleimani's forces are a secretive branch of Iran's Revolutionary Guard that in the past has organised Shia militias to target US troops in Iraq and, more recently, was involved in helping Syria's President Bashar al-Assad in his fight against Sunni rebels.
In Britain, Hague said the country would not take part in any air strikes, but said that an "operational liaison and reconnaissance team" from the Ministry of Defence had arrived in Baghdad on Sunday. They would "assess the situation on the ground and assist the [British] Embassy in contingency planning", he told MPs.
US officials said that any offer of military intervention would be conditional on Iraq PM Nouri al-Maliki drawing up a plan to heal the country's Sunni-Shia divide and overhauling its poorly-performing national army, which was routed by Isis forces.
Administration officials cited by the New York Times said Obama believed there was a now a "brief window to pursue diplomacy" as the advance of Isis forces was checked by the stronger defences of Baghdad, where Shia militia are expected to stand their ground, unlike the Sunni-dominated towns of Mosul and Tikrit that fell to the rebels.
Saudi Arabia yesterday rejected any foreign intervention in Iraq, and blamed Maliki's fanning of sectarian tensions for giving rise to the Isis insurgency, a view echoed by the Sunni-dominated emirate of Qatar.