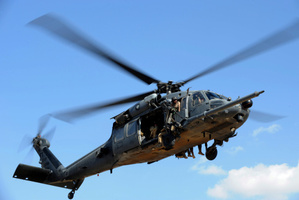 A U.S. Air Force HH-60 Pavehawk comes in for a landing. Photo / Thinkstock
The U.S. Coast Guard says four of five people aboard a Navy helicopter that went down in the Atlantic off Virginia have been rescued.
Petty Officer David Weydert says the search continues for the fifth person. Two Coast Guard cutters were racing to the scene Wednesday.
A Navy helicopter rescued the four. Their conditions are not known.
The helicopter has been identified by the Navy as an MH-53-E. According to the Naval Air Systems Command website, the aircraft performs airborne mine countermeasures and onboard delivery missions.
Yesterday a US Air Force Pave Hawk helicopter crashed in a coastal area of eastern England during a training mission, killing all four crew members aboard.