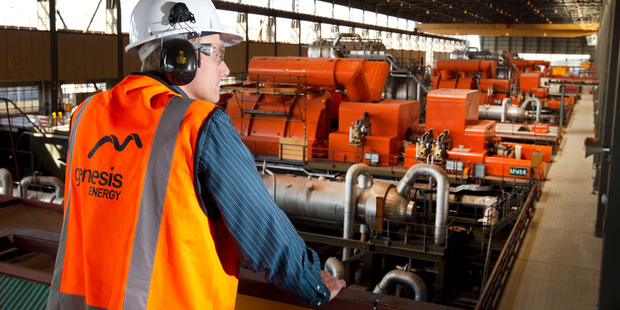 Genesis Energy, New Zealand's largest energy retailer, posted a 53 per cent drop in full-year profit, beating its prospectus forecast and affirmed it was on track to meet its targets for 2015 even in the face of heightened retail competition for electricity and gas.
Profit was $49.2 million in the 12 months ended June 30, down from $104.5 million a year earlier, the Auckland-based company said in a statement. Sales slipped 3 per cent to about $2 billion. The results beat its prospective financial information (PFI) forecasts of a profit of $41.8 million while sales were 1.7 per cent lower than the projected $2.04 billion.
The government completed its asset sales programme, raising $733 million from the sale of 49 per cent of Genesis at $1.55 a share. The shares soared to as high as $1.925 after listing in April and rose 0.6 per cent to $1.77 on the NZX today, meaning investors in the initial public offering are sitting on a gain of about 14 per cent.
Earnings before interest, tax, depreciation, amortisation and fair value changes fell 9 per cent to $307.8 million, while still beating its PFI forecast by 1 per cent. The decline in earnings reflected lower wholesale electricity prices, reduced electricity generation and lower retail electricity and gas sales volumes, the company said.
Read also:
• Mighty River hikes dividend as profits surge
• Meridian raises dividend
• Contact Energy profit up 17.6pc on new plant and hydro gains
• Vector profit down on mandated price cuts
Earnings were also hurt by a nine-week outage of the Tekapo A and B power stations in the second half of the year for second stage remediation work on the Tekapo Canal, one-time costs of the IPO and the cost of terminating an offshore coal supply contract.
Genesis said the retail electricity and gas markets were a "challenging environment" in the latest year. It has 26.1 per cent share of the retail electricity market and 43.7 per cent of the gas market. Total electricity customers fell 4 per cent to 523,278 in 2014, which the company attributed to increased competition from smaller retailers taking advantage of lower wholesale electricity prices and "bundled offerings from established competitors."
"Looking ahead, while the markets that Genesis Energy operates in currently remain challenging, it expects to deliver 2015 results in line with the PFI forecasts for Ebitdaf of $363.4 million," it said.
The company will pay a final dividend of 6.6 cents a share, beating its PFI target of 6.4 cents and bringing total payments for the year to 13 cents. It paid a final dividend of 5.7 cents a year earlier.
See the latest results presentation from Genesis Energy here: