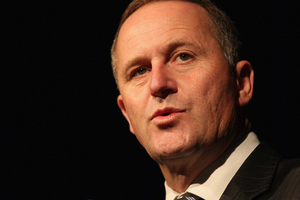 Prime Minister John Key. Photo / Getty Images
The price of shares in partially-listed state owned enterprises will be pushed up significantly as institutional investors, especially superannuation funds, compete to meet demand, research by Forsyth Barr shows.
Prime Minister John Key's "mum and dad" investors could be in line for a fast profit if they wait for institutions to bid up the price before selling.
Forsyth Barr released research showing under the proposed methodology changes to the NZX equity indices, all four of the SOEs proposed for partial sell-down would be in the top 20.
Meridian Energy would be third on the NZX-50 behind Telecom and Fletcher Building. Mighty River Power, the first to go this year, would be eighth; Genesis Energy and Solid Energy at 18 and 20 respectively.
Key has promised New Zealand buyers will get first go at the shares when they are listed.
Up to $7 billion is expected from the sell-down, but Forsyth Barr now believes the Government will only sell down 40 per cent of the assets, rather than the 49 per cent earlier announced, giving a return of around $5 billion.
There is general agreement among brokers and industry observers that while the Government can restrict the first tranche of shares to New Zealand owners, including iwi and funds like the New Zealand Superannuation Fund, ACC and the Government Superannuation Fund, there is nothing to restrict "mum and dad" investors from onselling their shares at the best price.
Based on Forsyth Barr's figures, Meridian Energy would have an NZX-50 index weight of 6.2 per cent, Mighty River Power 3.4 per cent, Genesis 1.7 per cent, Solid Energy 1.6 per cent.
Broker Peter Young said the Government had said the maximum sell-down of each SOE would be 49 per cent. "However, we believe that to allow for more capital flexibility an appropriate sell-down level could be in the order of approximately 40 per cent."
The Forsyth Barr calculations were based on a 40 per cent sell-down. That meant a free float value for Meridian of $2.61 billion, Mighty River Power at $1.45 billion, Genesis at $700 million and Solid Energy at $680 million.
Institutions and funds which track the NZX will be required to buy the new shares in proportion to their weighting in the index and they will have to buy in an open market. Iwi and funds will likely be allocated a scaled proportion of the listing in the initial public offering (IPO), but that will not be enough to meet their demands.
The only way to get the shares will be to bid up the price until private shareholders feel it's worthwhile to sell. However, brokers believe there will be wide interest in the floats from overseas funds which view energy companies as 100-year investments.
Many Kiwi shareholders treat share purchases as short-term investments, taking a quick profit. Overseas investors look at income returns from investments in energy companies, often over 25 years.
Young said that due to the size of the proposed floats, there was the question of how the NZX would meet the timing of the subsequent inclusions in the NZX benchmark indices.
As a guide, Forsyth Barr had looked at recent large cap listings, in particular Vector in 2005 and APN News & Media in 2004. For each of those, the NZX was mindful of the subsequent weightings in the 50 index and therefore the required number of shares needed for passive funds to be bought in order to gain a neutral weighting.
To reduce the price impact, due to the demand, the NZX tranched the index inclusion over two subsequent months for both the listings with 50 per cent of shares included in the first month of listing and the remaining 50 per cent the following month.
New Zealand First leader Winston Peters said allowing the sale of non-voting shares could theoretically see the Government's shareholding in the power companies plummet within three years.
MARKET BOUND
Estimated free-float value*
* Meridian Energy - $2.61b
* Mighty River Power - $1.45b
* Genesis Energy - $700m
* Solid Energy - $680m
* Based on a sell-down of 40pc
Source: Forsyth Barr.
- Otago Daily Times