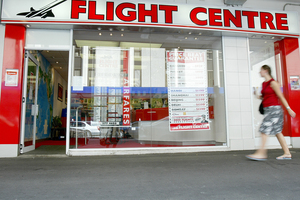 A former employee of Flight Centre who dishonestly accessed a computer system to fund a "lavish lifestyle" has been sentenced to five months' home detention.
Dina Jan, 30, worked for Flight Centre for three years, a court heard today.
She dishonestly accessed the computer system to load money that belonged to Flight Centre onto a MasterCard Cash Passport she created in her boyfriend's name.
Jan did this 104 times over six months, taking more than $117,000 in total.
Judge Philippa Cunningham said when sentencing Jan today at the Auckland District Court that the offending was used to fund a "lavish lifestyle" including a family holiday to the United Stated where the family went on an "extravagant shopping spree", spending about $25,000 on clothes and jewellery.
Jan's lawyer Robert Samuel said she was remorseful for what she had done, and was in an unstable mental capacity at the time of her offending.
Mr Samuel said his client had suffered a miscarriage when she began her offending.
A discharge without conviction was sought, however Judge Cunningham said the gravity of offending outweighed the negative impact of a conviction in this case.
Jan paid the full amount of money back to Flight Centre today as reparation for her offending.
- APNZ