'Weak' language in workplace can hold females back, says leadership coach.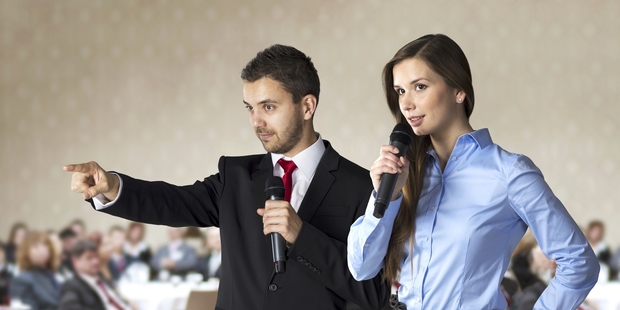 Women. Watch your language. "Just" is a four-lettered word. And uttering the words "I think" could be career limiting.
It's well known that women lag behind men in the promotion stakes at work. There are many reasons why that is. It's more common for women to take breaks in their career, for example. Or when people think "manager" they think "male".
Even the language used by female employees and businesswomen can sabotage their careers. That language problem is one that concerns Anne Fitzpatrick, executive leadership coach and facilitator.
Listen to a female manager at work and she's more likely than her male counterparts to use what Fitzpatrick calls "weasel words" - weak words such as "just", "should", "think" and "try", which water down the message.
Men in the same situation are more likely to simply state the fact and leave out the "just" or the "I think", says Fitzpatrick.
"A woman might say: 'I think the world is round', [whereas] a man will be more likely to state the fact: 'The world is round'."
Weasel words affect the listener - and the speaker's behaviour too. If the speaker "thinks" rather than "knows" or "will try" rather than "deliver", the speaker thinks less of herself (or himself) and behaves accordingly.
One reason behind women's propensity towards weasel words is how they are reared, says Fitzpatrick.
"My research suggests we are socialised from an early age to please others. We are [also] socialised not to take risks. Generally boys are encouraged or allowed to take more risks than girls."
As a result women are conditioned to downplay their achievements or opinions. They say: "I'm just the office assistant", or "I think we should focus on our marketing communications". Saying "I'm an office assistant and my role is to ..." or simply "we need to focus on our marketing communications", is more powerful.
By adding the "just", the "I think" and the "should" you've watered down our message, says Fitzpatrick.
Other ways women make the same mistake is by adding questions at the end of statements such as "don't you think" or "isn't it?".
This is a particular problem for many Kiwis who use the rising inflection at the end of sentences, says Fitzpatrick. They make a statement, but because their voices rise it sounds like a question and the message doesn't carry as much weight.
Weasel words aren't innately bad, says Fitzpatrick. "We all do it. At times it is quite appropriate to use those words." An example where these words can be used would be to say "sorry" if we've truly stuffed up.
"It is about being conscious of weasel words and making a choice. Choosing puts you in control of your life and conveys confidence."
Some women fear, and international research backs up the concern, that strong women are more likely to be seen as aggressive at work.
Losing the weasel words doesn't automatically translate into being seen as aggressive, says Fitzpatrick.
What matters is the tone of voice. If a statement is made using a tone that makes others feel stupid for asking a question, or if it implies universal knowledge, then it might be deemed aggressive. In a neutral voice, the same words can get the statement or question across without having that negative effect.
The first time Equal Employment Opportunities Trust chief Bev Cassidy-Mackenzie introduced herself to Fitzpatrick she got a "tsk, tsk, tsk," reply. "We were sitting around a lunch table and she asked who I was," says Cassidy-Mackenzie. "I said: 'I am just the CEO of the EEO Trust'."
She doesn't use the "just" word to describe herself any more, thanks to that meeting. "[Fitzpatrick] talked about weasel words and how I had just minimised myself."
When Cassidy-Mackenzie later saw Fitzpatrick talk about weasel words to a packed Diversity Breakfast: Women in Business late last year, every woman in the room was nodding her head.
Through being aware of the problem and mindfulness, Cassidy-Mackenzie has dropped the weasel words and become a more powerful speaker in the many boardrooms and public functions that she attends.
Being a woman and part Maori makes it hard enough for her championing of women, disabled people, older folk, and ethnic minorities to be accepted, without using weak language as well.
All too often organisations think they don't have a problem with diversity, she says. Minimising the message isn't going to get those organisations to do anything about it.
Fitzpatrick is keen to point out that weasel words are just part of the jigsaw of factors that hold women back professionally.