Top student sees her name as sign she was supposed to work in funeral business.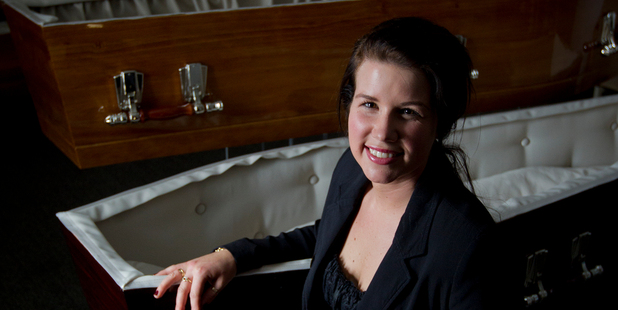 Embalmer Marissa Deadman admits she is sometimes embarrassed when handing out her business card.
"Some people think it's a bit of a joke. I get a little bit embarrassed now and again when I hand out my business card because I take my job very seriously."
The 22-year-old Aucklander has worked at Fountain's Funeral Directors in Papakura since she was 19.
It is not known where the family name, Deadman, originates. But she sees it as a sign that she was destined to work in the funeral industry.
"I was born to do this as a job. I just need to find myself a hot husband with a nice boring surname," she laughed.
Miss Deadman has just graduated with a National Diploma in Embalming from the Wellington Institute of Technology.
At her graduation ceremony at the weekend, she was awarded the top excellence awards in practical and theory exams and received the overall excellence award for her class.
The former St Mary's College student is unsure what first sparked her interest in working in such an industry, but says it is something she always longed to do.
"I was studying in Christchurch for a wee while and when I came back up here for the holidays ... I thought I'd just go and do some work experience [at a funeral home] just to sort of get it out of my system.
"The first day I went in, I just thought: 'Oh my goodness, this is what I want to do for the rest of my life'. I was just so fortunate that I was just in the right place in the right time."
As an embalmer, she works normal hours - 9am to 5pm - during the week and is then on call 24 hours a day every second week.
She is also required to work after-hours, depending on circumstances such as a sudden death in the early hours of the morning or late at night.
She has never thought of dead people as being "very scary" and is passionate about what she does.
"It's the best job in the world. It's so cool.
"A lot of people say that [it's morbid]. But it's such a privilege. It's just giving people back the dignity. There's nothing nice about death or dignified about it and it's just giving it back. It's for the family as well - just creating a nice memory for the family.
"There's so much that goes into it and it's like everybody I look after is like my own nana or my own granddad. It's just really nice," Miss Deadman said.
"If somebody in my family or somebody that I loved died, I'd want somebody like me to look after them because I take care of them and I just love what I do so much."
Miss Deadman said many people had a misconception about the funeral business and were surprised to see a young person involved.
She said socialising with friends was sometimes difficult, but being an embalmer made for easy conversations when meeting new people.
"I'll mention that I work in the funeral industry and get a: 'Oh, that's a wee bit different'. People are either interested or they don't want to know."
The qualifications

* NZ Diploma in Embalming, Weltec: 54-week course.
* Maximum 20 students accepted each year.
* Student must already work in a funeral company.
* Includes 12-week embalming course and six-week funeral course. Students doing the funeral directing paper learn about behavioural science, and psychological, social and cultural behaviour related to death.