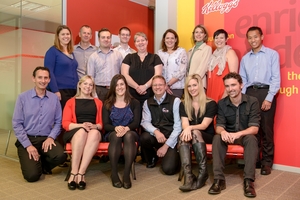 Being part of a small, tight-knit team with a "number-8 wire" attitude and a great set of values is what makes working at Kellogg special, says the company's business unit leader and sales director for New Zealand, Esme Borgelt.
The NZ division of Kellogg (Aust) Pty Ltd has this year topped the Best Small Workplace category of the Kenexa, an IBM company, Best Workplaces Awards.
The company, which markets and sells breakfast cereals and snacks across brands such as Nutri-Grain, All-Bran, Special K, Sultana Bran and Coco Pops, is guided by principles called K-Values, which Borgelt describes as being part of their DNA.
"Through integrity, accountability, passion, humility, simplicity and a focus on success, we have created a vibrant company culture where ideas can blossom, people can thrive and success can flourish," she says.
"We are enormously proud of our heritage, our foods and our brands, and we put people first in everything we do.
"The team shares in each other's successes, supports each other in challenging times, and genuinely enjoys working together to achieve common goals.
"We love facing challenges and finding innovative ways to drive even greater results, even if the answer is sometimes a bit quirky or left-of-field, which we are known for in the Kellogg world.
"And while we are serious about what we do, we don't take ourselves too seriously."
What they do take seriously, however, is the encouragement of new ideas and approaches by everyone at Kellogg. These are listened to and respected.
As well, notes Borgelt, the company tends to "over-communicate" to ensure everyone is on the same path, with their systems providing thorough, consistent and regular communication on its performance, initiatives and programmes across the team, including those remotely located.
Borgelt says the Kenexa Best Workplaces Survey gives their leadership team the opportunity to listen to, and gain insights from, the views of Kellogg people in New Zealand to help in decision-making for company priorities, and says the 100 per cent survey response rate is testimony to the team's belief that every voice counts.
She notes that a key advantage of working in a small team is that it's easy to see when things are not working, and means they are nimble enough to make adjustments to ensure employees are constantly engaged and positively challenged.
The business focuses broadly on two areas of engagement - manager effectiveness and work-life balance.
Key actions include facilitating one-on-one communication between people managers and employees, and enhancing performance and development planning processes.
Training is centred on personal and professional development, in the belief that the business can be at its best only when everyone has an equal opportunity for success.
To achieve effective work-life balance, the company provides tools for managing workload. These include setting accountabilities, prioritising and standardising work, and being empathetic to every individual's circumstances around work and personal life. A popular initiative is "half-day Fridays" - a flexible work practice which rewards people for their dedication and commitment. Employees can work extra hours from Monday to Thursday to be eligible for a half day finish on Friday. Borgelt says: "We all work together to manage our workloads through the week and the team loves this benefit, especially in summer."
Two other initiatives giving staff a high level of satisfaction are giving to the community, and being honoured in the company's internal awards programme. "The WK Kellogg Awards celebrate employees who consistently model our K-Values while making contributions to our business results," says Borgelt. "Recognition through this programme energises the team and builds on our drive to do better each time."
The company has a long history of giving back to the community. Under Kellogg's global initiative, Breakfast for Better Days, breakfast cereals are regularly donated to organisations including the Salvation Army NZ. Employees donate their time to provide and serve breakfast to up to 100 people on World Food Day and, in May, as official sponsor of the NZ Breast Cancer Foundation's Pink Ribbon Breakfast campaign, Kellogg supported the cause by painting its Special K packs pink. "We also hosted a Pink Ribbon Breakfast of our own, in celebration of this wonderful initiative that means so much to supporting Kiwi women with breast cancer," says Borgelt.
Smaller but equally satisfying initiatives include celebrating birthdays with cake and candles, a weekly coffee club gathering to talk through upcoming priorities, and a monthly health and wellness shoulder massage.
Borgelt says there is "an amazing cast of characters" at Kellogg, and the broad diversity in the team is valued. "The differing backgrounds and experiences that everyone brings is a definite strength. Our environment is one of trust and respect, and this fosters openness in our conversations, knowing that the glue that binds us is the collective desire to succeed."