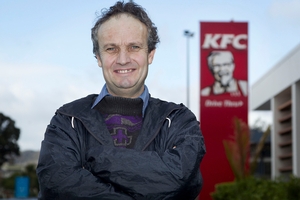 KFC has been contacting laid off disabled workers with offers of re-employment. Some workers have leaped at the chance but at least five turned it down.
Jared Dixon has autism and was last year forced out after 16 years working part-time at the Greymouth store. The 36-year-old was among 17 workers hit by store restructures which disestablished "limited duties" roles.
Following Herald on Sunday reports and widespread public outrage, KFC announced it would reinstate the roles.
Jared's father Robert Dixon says his son has no wish to return.
"He was so hurt by what happened," he said. "You don't work there for 16 years to get that treatment, and then go back because [the company] are embarrassed."
Robert says Jared is now happily working elsewhere. "McDonald's gave him as many hours as he needed and the manager is very pleased with him."
Douglas McRae, 49, from Wellington, however, can't wait to get back.
He worked two afternoons a week packing the potato and gravy but was told he wouldn't be merging to a new Lower Hutt store with his workmates.
"That was not fair at all. I loved my job," he said.
His caregiver, Steve Edwards, said McRae found out through the newspaper he'd be asked it he'd like to return.
"He was over the moon. Somebody read the Herald on Sunday article to him and he rushed over to the shop to buy us a copy."
Edwards says the one possible "stumbling block" is that McRae has to sit a food safety test, but is hopeful he will pass.
Restaurant Brands chief executive Russel Creedy said the company had contacted the 17 affected workers to offer limited duties roles with appropriate training.
"Seven of those contacted have confirmed they would like to return to work and training for those staff members is either under way or about to commence. Five people have confirmed they do not wish to progress with the offer to work in a limited duties role. Restaurant Brands is waiting to hear how the remaining staff would like to proceed."