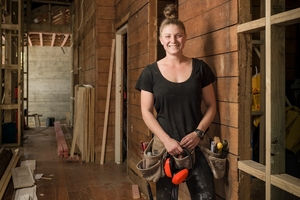 A trainee carpenter from Herne Bay is one step closer to winning a national award after being shortlisted in an apprentice of the year contest.
Kate Ross was named the Auckland region's Registered Master Builders Carters Apprentice of the Year last month and will take part in the national final on Friday.
The 26-year-old should recognise the smell of success; she used to be employed by perfume maker Chanel in Australia, but decided a job outdoors would be more satisfying than working in a complaints department.
"I'd look out the window on beautiful clear days and just wish I was out in the sunshine, rather than sitting at a desk," she says. "The idea of doing something with a tangible result, building something you could look at or touch at the end of the day, seemed appealing."
She moved back to New Zealand in 2010 and signed up to start a Bachelor of Construction at Unitec, covering construction management and quantity surveying.
"Then I thought, no one is ever going to listen to me when I haven't ever picked up a building tool, so I applied for a carpentry apprenticeship," she says.
Kate works for CG Low Building and mainly helps the firm modernise clients' homes as part of the company's building renovation business. "I get a lot of satisfaction and reward from seeing what I have worked on at the end of each day," she says.
"There is a lot of problem-solving in building renovation, which I enjoy a lot. I work with a great team, I get to work with some cool tools and there is a lot of pleasure in improving someone's home. However, the more you uncover during a renovation the more work there is to do. The problem with a lot of older New Zealand houses is that they are literally held together by borer.
"The most challenging part is deciding what, in an old house, can stay and what needs to be pulled out - there is a fine line sometimes. But if everyone is talking and sharing information then good decisions are made."
Kate was told by her boss that she was eligible to take part in the Apprentice of the Year contest and so put herself forward. She was one of 10 apprentices to be considered in the Auckland region.
Judges spoke to Kate's employer, interviewed her - asking questions about worksite health and safety - visited her on site, watched her work, inspected her toolkit, and spoke to a client of the firm.
In naming Kate as a regional winner, judges said she "demonstrated an excellent overall understanding of the building industry and its many rules and regulations". "Kate's passion for building was evident in the high quality work she produces and the glowing endorsements from her employer and client alike," they said.
Kate heard she had won at an invitation-only ceremony at the AMI Netball Centre in Takapuna. "I had hoped for a placing but I didn't think I'd win."
Kate, who hopes to complete her apprenticeship next June, won $2000 to spend at Carters and an Outward Bound leadership programme worth $3600.
Kate says she'd ultimately like to have her own company and employ people. "I'm not sure what field of construction it will be in, but right now I am committed to the renovation scene and I think there is lots of work coming for that area of the market, especially in Auckland, Wellington and Christchurch. Making buildings earthquake-safe will create a lot of work."
Second place in the Auckland region was awarded to Nathan Thompson, 20, of Pukekohe, employed by Van der Putten Construction. Third place went to Jalon Logan, 22, of Pukekohe, employed by Brickwood Construction.
Kate will compete against the eight other regional winners at the national finals at The Cloud in Auckland on Friday.
"The event is open to the public, so it will be a bit nerve-wracking," says Kate. "I might get my hair done, but I'll skip the manicure."
Steve Hart is a freelance writer at SteveHart.co.nz