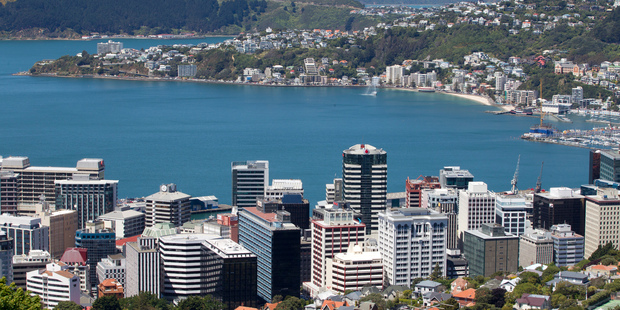 The number of job vacancies advertised on the Trade Me website rose by nearly 10 per cent in the last quarter, led by growth in marketing, media and communications roles.
People in IT-related positions are currently the highest earners in the country and Wellington has topped the regions for the best average rate of pay.
Trade Me Jobs today released data for the July to September period, showing the number of job listings increased 9.6 per cent from the second quarter.
Compared to the same three-month period last year, job advertisement numbers have risen 9.8 per cent.
The Ministry of Business, Innovation and Employment (MBIE) released data last month which showed total online job ads had increased by 6.3 per cent in the year to August.
"We're becoming confident that the buoyancy in the Kiwi job market isn't a temporary affair," said Peter Osborne, head of Trade Me Jobs.
"It reflects an increasing confidence as employers look to boost investment in new staff."
Trade Me also provided figures today about which regions offered the highest average rates of pay for full-time workers.
Wellington came out on top with an average of $73,444 per annum, followed by Auckland City ($73,193) and New Plymouth ($60,017).
The lowest average pay was in Horowhenua ($43,140) and Waimakariri ($45,789).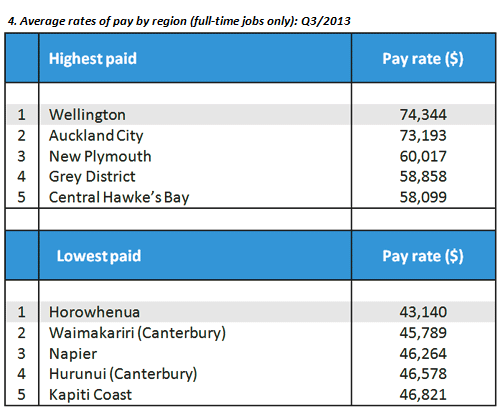 Roles in marketing, media and communications have risen 18.8 per cent compared to a year ago and 31.6 per cent from the previous quarter.
"An increased appetite for designers is the big driver here, not to mention the salaries on offer for these positions," Osborne said.
Other strong performing sectors in the third quarter were construction and architecture, government and council, and HR and recruitment.
Osborne said pay in the IT sector had continued to climb, pushing other traditionally prominent professions further down the salary food chain.
"When Trade Me Jobs first ran its salary survey, doctors and medical specialists were taking home the highest pay packets. Now they're barely hanging on in the top five, due to consistent increases in rock-star IT salaries," he said.
The average rate of pay for a full-time IT architect was $135,358, followed by IT project managers ($130,865), IT managers ($126,122) and doctors and medical specialists ($125,123).
Housekeepers, kitchen staff, receptionists, retail assistants, and labourers were all at the bottom of the food chain, earning in the low to mid-$30,000 range.
Compared to a year ago, Manawatu/Wanganui roles have increased by 17.7 per cent, Taranaki by 15.3 per cent, Auckland by 13.5 per cent, and Bay of Plenty by 13 per cent.
Statistics New Zealand released data today which showed the median weekly wage and salary income increased 4.8 per cent to $844 between June last year and June this year.
The increase was a result of having more older workers and fewer younger workers in the workforce, said spokesman Ian McGregor.
"Younger people tend to work fewer hours and earn less than older people."
Average hours worked increased by 23 minutes to 36 hours and 18 minutes. Median hourly earnings increased by 72 cents to $21.58.