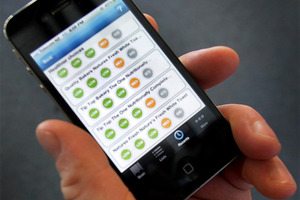 A manager who continually texted and called a young female employee asking her to go to his house, even after she rejected his advances, was rightly fired, the Employment Relations Authority says.
In its decision, the authority suppressed the names of all people involved as well as the company they worked for because of the "risk to the reputations of entirely innocent people".
The manager complained to the authority that his dismissal from the company was unjustified.
Authority member James Crichton said the man, in his late 30s, had a senior role at the company when he sent a string of texts to a junior employee, in her early 20s, asking her for dinner at his house on April 29 this year.
His texts started at 6.36pm and finished at 10.54pm - more than two hours after she told him she would not be taking him up on the offer.
The man also called her three times during the evening.
Mr Crichton said there was a reference in the texts that if she did go to the man's house, he would give her a day off work. He also made a reference that could be sexual to an "admin whore", Mr Crichton said.
After the young woman complained about the man's behaviour to the company's principal, representatives of the company visited the man's house.
There was a dispute as to whether the man knew the representatives would be visiting.
Evidence was given to the authority by the company that the man was "anything but rational", red-eyed, shirtless and aggressive.
"In particular, [the company's] representatives maintain that at the end of the discussion...[the man] slammed the sliding door in the faces of [the company's] representatives," Mr Crichton said.
Because of the man's behaviour and demeanour, he was immediately suspended on full pay.
The principal told the authority: "it immediately struck me that it was wrong for somebody in [the man's] position to ask a junior office girl out to his house in such a persistent way, particularly since he seemed to be offering her a day off work if she did so."
At a disciplinary hearing, the man described the young woman as "his friend" and referred to the offer of a day off in lieu as "a joke".
His position was that he had done nothing wrong and was simply engaging in banter with a friend outside the workplace.
However, the woman told the company she was friends with the man's former partner and she had always felt uncomfortable around him.
Mr Crichton preferred the company's evidence and said the man was guilty of serious misconduct and was thus liable to dismissal.
He dismissed the man's claim.
- APNZ